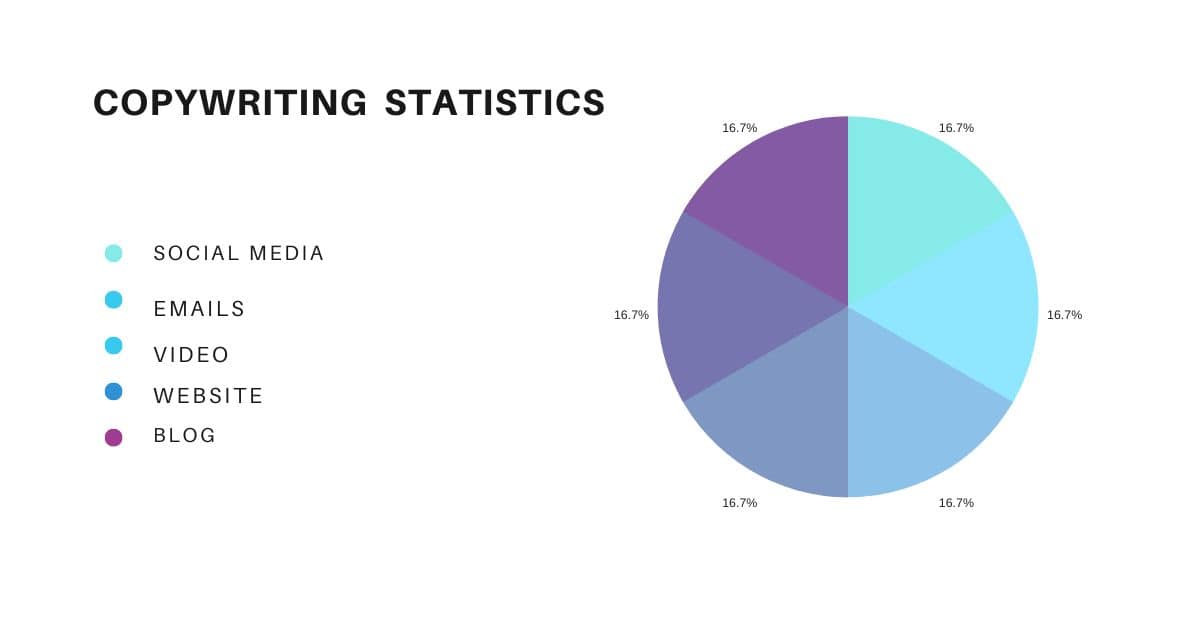 Unlocking the true potential of your business requires more than just a product or service; it calls for a strategic blend of words that captivate and compel your audience to take action. This is where copywriting steps in — the art of crafting persuasive and engaging content to attract, convert, and retain customers.
From weaving your brand's story to forging an emotional connection with your audience, copywriting serves as the backbone of successful marketing strategies.
In this article, we delve into the compelling copywriting statistics that demonstrate the profound impact copywriting has had on numerous businesses. Discover how harnessing the power of persuasive language can skyrocket your leads, drive traffic, and expand your brand's reach.
Let's explore the data and uncover how you can seamlessly integrate copywriting into your marketing arsenal for unparalleled success.
Quick Summary: Copywriting Statistics
General Copywriting Statistics
1. Demand for copywriters in the U.S is estimated to grow by 7.6% in 10 years (2016-2026)
(Career Explorer)
There are up to 131,200 copywriters in the U.S. As new businesses keep springing up, the demand for copywriters will keep increasing. Even so, the world has gone digital, so every business is striving to have a successful online presence.
But to have a successful online presence, you need to attract visitors, and to do that, you need an excellent copy. Through excellent copywriting, businesses of all sizes can connect with their customers and increase their profits.
2. Call-to-actions that are personalized usually convert 202% more audience than generic call-to-actions
(Hubspot)
A personalized CTA refers to a call to action that is tailored or customized based on the individual's interests, preferences, or behavior.
3. About 46% of professional copywriters have received an actual degree or training in copywriting
(Simply Business)
All that is needed to succeed in the copywriting industry is to have the right skills, not necessarily a degree.
You can take online copywriting courses to sharpen your skills.
Skilled writers are more likely to get high-paying gigs than unskilled copywriters.
Most companies require their copywriters to have a degree in either English, Marketing, Business, or any other related courses. A master's degree in marketing can get you a senior position or increase your salary.
4. Up to 73% of copywriters are self-employed. This means that they run their own businesses
(Simply Business)
The 73% consist of 67% of copywriters who are freelancers and 6% who are agency founders.
A good majority of copywriters are freelancers, and only a few are in-house copywriters.
Freelancing is a way of getting a higher income as a copywriter. You can have more than one client paying you up to $5000 each in a month.
Asides from a higher income, you can work at your convenient time. As a freelancer, you are your own boss and can work on your own terms. This means that you can travel when you want and have a steady work/life balance.
5. There is an 80-20% rule that governs headlines in copywriting as only 20% of people read past the headline
(Copyblogger)
The 80-20 rule says that 80% of people will read only the headline of a copy and 20% of people will proceed to the body, and probably the conclusion.
Your headline is the first thing readers see and decide whether to read your copy or skip it. That is why your headline is very important.
It is often recommended that your headline should be the last thing you work on in your copy because it involves more thought and creativity. In fact, you put in more effort into your headline than in your copy.
A good headline should contain powerful words and be engaging enough for readers to click or want to read more.
6. Long-form content (through blog posts or articles) generates nine times more leads than short-form content.
(Sweor)
7. Targeted content in the form of personalized CTAs leads to 42% more conversions than targeted content in the form of generic CTAs
(Digital Oasis)
CTAs are very important when writing copies because they stand as the trigger that would eventually force your audience into action. They are also like a guide leading your audience so they don't get lost or confused.
Personalized CTAs are tailored to each individual's preferences or interests. These CTAs are more engaging because they consider each user's unique characteristics. They are not generic and provide a better user experience for users.
8. Excellent copies can draw 7.8 times more traffic and produces better brand recall
(Outgrow)
The quality of your content in terms of message, method, and medium by which the message is being passed is an extremely important factor that determines the conversion rate.
The first trait of an excellent copy is good writing. It should flow naturally to the reader and be well-structured.
Your copy should include some creativity and sound natural. You don't need to sound too salesy. It would only make your copy look forced.
9. Asides from writing, the next top skills for copywriters are copy-editing (81%) and proofreading (73%)
(Simply Business)
A great copy needs to be well-structured and error-free. It shouldn't have any grammatical or spelling errors.
This is why you need to have a clean eye for details. You need to know how to edit and proofread your copy so it comes out crisp and attractive.
10. A regular reader spends only about 37 seconds reading an article or blog post
(Ryan Robinson)
There are millions of content on the internet and thousands of them are vying for your audience's attention. People have become even more impatient so they only view written content for a few seconds.
If you want them to read through your copy and take action then you need to grab their attention right from the first few words of your copy.
Starting your copy or content with generic words is so boring. Readers will only glance through and move out.
11. Internet readers have a short attention span of 8 seconds
(Hubspot)
The simple way readers can be captivated is by making your headline short but at the same time having it leave a lasting impression on their minds.
People will pay more attention to content they are interested in so your copy should be specifically targeted towards your ideal audience.
You can never write for everyone. Just focus on your target audience and use words that address their problems.
12. 80% of consumers are most likely to purchase from a brand that offers them personalized experience/content
(AWAI)
Personalization is one sure way to build trust and retain customers. It gives your customers a better experience.
Additionally, personalization gets you more referrals.
You use customers' data or search behavior to create a personalized copy that speaks directly to them.
13. With 58%, copywriting is the second most frequently completed task done using ChatGPT
(Statista)
When ChatGPT first came out, many people feared that it would replace writers. Many companies turned to AI writing for marketing copies and content. However, AI-written copy is different from that written by a human copywriter.
Humans write with emotions, which is a great need.
Rather than replacing copywriters, ChatGPT has now become a tool writers use to perfect their craft.
Copywriting Demographics Statistics
14. In the U.S, there are over 4,882 freelance copywriters
(Zippia)
This number is expected to increase due to the rise of small businesses. Also, thanks to the covid-19 pandemic, more people are opting for remote work options, which also include freelance copywriting.
15. The average age of freelance copywriters in the U.S is 42 years old
(Zippia)
There is no specific age gap for freelance copywriters. In fact, a copywriter can be as young as 15 years as long as they can get the job done perfectly. However, most companies prefer their copywriters to have a degree either in business, marketing or even in English. This means that copywriters need a college degree if they want to get a higher income.
16. There are more female copywriters in the U.S. than male.
(Zippia)
Female copywriters make up 53.7% of freelance copywriters in the U.S. The remaining 46.3% are males.
17. The average copywriter's annual salary in the U.S is $60,001 — Indeed
If you are wondering if copywriting is a great career choice to follow, the answer is yes.
Copywriting is a high-income skill and can be a professional career. A junior copywriter can earn about $24,000, and a senior copywriter can earn as much as over $100,000.
Landing Page Copywriting Statistics
18. Addressing users' fears and curiosities on your landing page can increase your conversion rate by 80%
(Gripped)
When users visit a landing page, they often have questions, doubts, and concerns that may hinder their decision-making process. By proactively addressing these fears and curiosities, you can lessen their concerns and build trust. In turn, this will increase your conversion rate.
As a landing page copywriter, ensure you address your target audience's specific questions and show them why they need to take action.
19. The average landing page conversion rate is roughly 9.7% across all industries
(Hubspot)
This represents the average percentage of visitors who complete a desired action on a landing page, such as making a purchase, filling out a form, or subscribing to a newsletter.
It's crucial to measure and track your own conversion rates to get accurate insights into your specific performance.
20. A 4% drop in conversion rate happens for every 1 extra second of page load time
(Portent)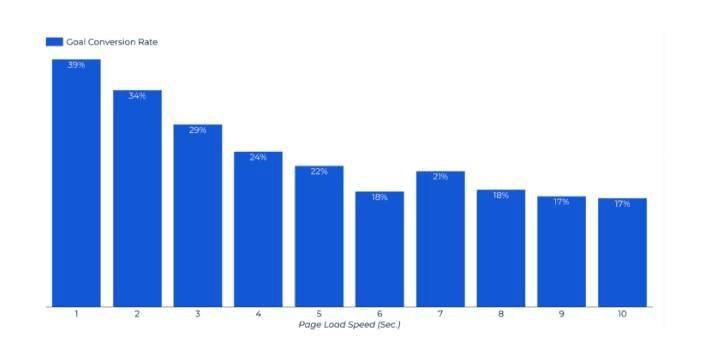 A slow page load time can disrupt the user experience. Visitors expect fast and seamless browsing, and if they encounter delays, they may become frustrated and abandon the page.
Users have increasingly short attention spans. They want instant access to information and are more likely to leave a page if it doesn't load quickly. Even a few seconds of delay can cause users to lose interest, navigate away, or seek alternative options.
Faster-loading pages are more likely to rank higher, as search engines prioritize providing the best user experience. If your page load time is slow, it can negatively impact your search engine visibility.
21. Landing pages with a single CTA have a higher conversion rate of 13.5% while landing pages with multiple CTAs have a conversion rate of between 10.5% – 11.9%
(Marketingprofs)
Having a focused and singular CTA can positively impact conversion rates. A landing page with a single CTA provides a clear and focused message to visitors.
When there is only one desired action to take, it reduces confusion and cognitive load for users. They can quickly understand what is expected of them and are more likely to follow through with the desired action.
Multiple CTAs in one landing page or a copy can confuse your visitors and overwhelm them with too many choices.
When visitors have a clear understanding of the desired action and its importance, they are more likely to take immediate action.
22. The average landing page conversion rate across 10 different industries is around 4.2%
(Unbounce)
23. Using Personalized CTAs in landing pages performs 202% better than non-personalized CTAs
(Email Vendor Selection)
By tailoring the CTA message to align with a user's specific needs, interests, or demographics, you create a more relevant and personalized experience.
This relevance increases the chances of capturing the user's attention and enticing them to take the desired action.
Personalized CTAs have the potential to evoke strong emotional responses from users. When a CTA addresses the user directly or uses personalized language, it can create a sense of connection and engagement.
24. A typical landing page should be between 500 – 1000 words
(Setupad)
Website Copywriting Statistics
These statistics are important for copywriters to know because they provide valuable insights into how visitors are interacting with the website and its content.
With these statistics, copywriters can gain insights into which pages and elements are performing well and which ones may need improvement.
25. There are about 1.12 billion websites on the internet yet only about 18% of these websites are active
(Siteefy)
Many websites become inactive due to various reasons. For example, a website may become outdated. This means that it has had no new content or activity in over a year.
Some websites are abandoned projects. These websites are often created for specific projects, events, or temporary purposes. Once the project is completed or the event is over, the website becomes inactive.
26. About 28% of small businesses U.S-based don't have a website
(Top Design Firms)
27. Research has shown that it takes an average user about 50 milliseconds, which is 0.05 seconds, to form an opinion about a website
(Sweor)
Within milliseconds of landing on a website, users process visual elements such as layout, colors, images, and typography.
A visually appealing and well-designed website can immediately capture users' attention and create a positive initial impression.
A polished and visually pleasing website can instill confidence in users, suggesting that the brand or business is reputable and trustworthy.
28. Across all industries, an average user spends about 54 seconds on a webpage
(Hubspot)
Users often engage in skimming behavior, quickly scanning the content to determine its relevance and value. This behavior can result in a shorter average time spent on a webpage.
In less than a minute, they can decide whether to view your content or not.
29. About 47% of users wait for no more than 2 seconds for a website to load
(Sweor)
To ensure optimal website speed and meet users' expectations, website owners and developers should prioritize website optimization techniques.
This can involve strategies such as minimizing file sizes, leveraging browser caching, optimizing images, using content delivery networks (CDNs), and implementing efficient coding practices.
Regular monitoring of website performance and testing can help identify areas for improvement and ensure a fast and seamless browsing experience for users.
30. Most internet users do not read web pages thoroughly. They merely scan through texts and skip to the next website
(NNGroup)
31. The ideal blog headline should be 6 words
(Buffer)
While there is no hard and fast rule for the ideal length of a blog headline, it is often recommended to keep headlines concise and impactful.
A good headline should be short and attention-grabbing.
Online readers often skim through content, including blog post titles. Shorter headlines are easier to read and comprehend at a glance, making them more scannable and increasing the likelihood of capturing the reader's interest.
32. 41% of low-performing content has many complex words and 43% have many long sentences.
(SemRush)
33. 59% of surveyed consumers say they will not patronize a website with poor grammar or spelling
(Real Business)
The quality of your writing affects the quality of your web copy or content. It also affects how people view the organization.
When a website contains numerous grammar or spelling errors, it can create an impression of carelessness or lack of attention to detail. Users may question the reliability and trustworthiness of the website and the business behind it.
Also, clear and error-free content is easier to read, understand, and navigate. Users expect websites to provide accurate information and communicate effectively. Poor grammar or spelling can disrupt the flow of information and hinder users' ability to engage with the content.
34. Including "Guide" in your headline attracts 3x more organic traffic.
(SemRush)
35. Paragraphs with more than 90 words are considered too long.
(SemRush)
Email Copywriting Statistics
36. Emails written at a 3rd grader level have a 36% chance of success than emails written at a college level
(Boomerang App)
Simplicity and readability is a very important quality of an excellent copy. Writing emails at a lower reading level, such as a 3rd-grade level, ensures that the content is accessible and easily understood by a wider audience.
Using simpler language, shorter sentences, and avoiding jargon or complex terms enhances comprehension, making it easier for recipients to grasp the message quickly.
Your email copy should be simple and straightforward.
37. 53% of marketers have an email marketing strategy
(SemRush)
38. There are approximately 347.3 billion emails sent out every day
(Oberlo)
39. 77% of marketers have experienced a rise in the level of engagement their businesses had after infusing copywriting into emails
(Hubspot)
Effective copywriting in emails involves crafting persuasive and engaging messages.
By using attention-grabbing subject lines, compelling storytelling, and persuasive calls-to-action, marketers can capture the reader's attention and drive higher levels of engagement.
Well-crafted copy helps communicate the value proposition and benefits of the offer, encouraging recipients to take action.
40. The number of emails sent out and received is estimated to rise to about 376.4 billion by 2025
(Statista)
This is a major increase from the 319.6 billion emails sent and received around the world in 2021.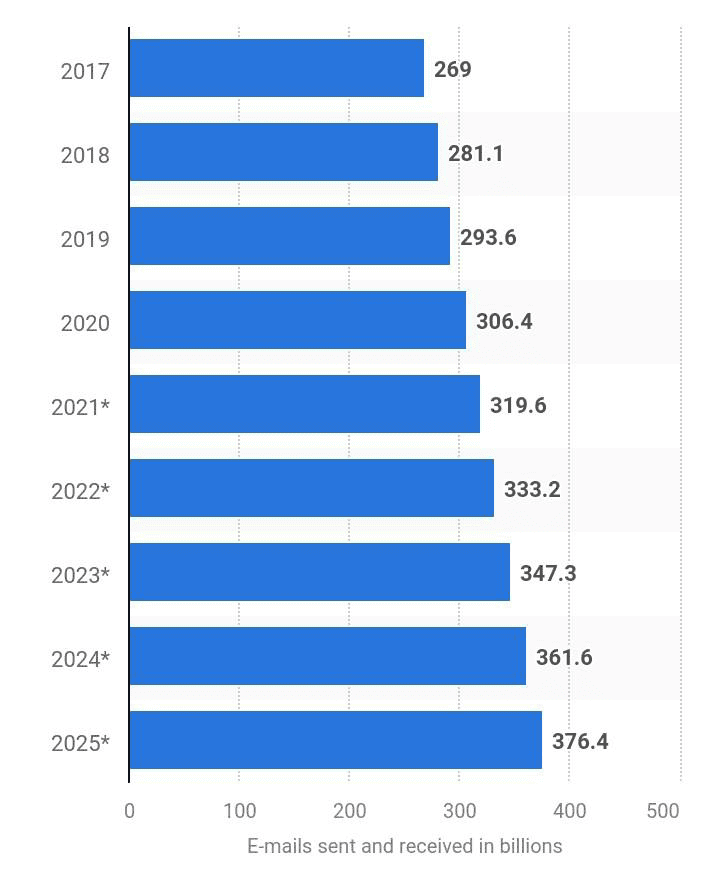 41. Email marketing yields a higher ROI than every other form of marketing. It generates $36 for $1 used
(Litmus)
42. Marketers who use segmented email campaigns see a 760% increase in revenue
(AWAI)
Video Content Statistics
43. People are 52% more likely to share video content than any other type of content
(Hubspot)
Video content is much more likely to be shared by users on various online platforms, including social media, websites, and messaging apps. This is because videos are exceptionally effective in capturing the attention of audiences and compelling them to share the content with their networks.
Particularly, the rise of video-centric platforms like YouTube, TikTok, and Instagram Reels has contributed to the growing trend of video sharing.
People are more likely to relate to video content than text content. They prefer to watch rather than read.
But why?
The reason is that videos are easier to consume. Videos can evoke emotions and create a more memorable experience. Short, relevant videos that speak to your target audience are the best.
44. Articles with at least one video have a 70% chance at conversion than articles without any video
(SemRush)
45. A study was conducted and over 80% of participants claim that video content has become increasingly important
(Vidyard)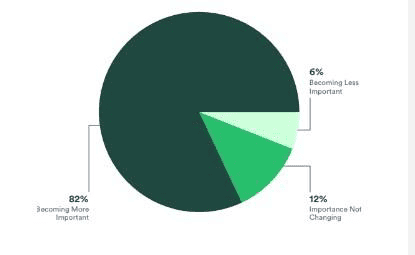 46. The number of video content viewers is expected to reach 3.5 billion before the end of 2023
(Statista)
This statistic just proves that businesses and content creators are increasingly incorporating video into their marketing and communication strategies to reach and engage a wider audience.
It's a fast-growing trend that is not stopping anytime soon.
Leveraging video can significantly enhance your online presence and capture the attention of a vast and diverse audience.
47. Up to 64% of younger surveyed consumers say they want to see more video content
(Hubspot)
This is way higher than the 17% that said they want to see more email content. Now you wonder why platforms like TikTok are growing rapidly in young subscribers.
Interesting video content can be in the form of product demos, tutorials, behind-the-scenes footage, interviews, storytelling, and more.
Not just younger consumers (Gen Z), some older ones (Millenials) do too.
As a millennial, I often prefer to just watch video content than read text. As I said earlier, video content is more emotional and relative.
48. 43% of consumers say their preferred medium is branded videos
(Hubspot)
49. 94% of Consumers prefer watching explainer videos
(AWAI)
Explainer videos are short, engaging videos designed to explain a product, service, or concept clearly and concisely.
This form of visual content is highly effective in conveying information and capturing their attention.
Compared to text-based content, explainer videos offer a more dynamic and interactive experience, making it easier for consumers to understand complex ideas or offerings.
Well-crafted and relevant explainer videos on your website and social media platforms can lead to increased user engagement, longer time spent on the site, and higher chances of converting visitors into customers.
50. 80% of consumers prefer video content over written content
(AWAI)
51. Articles with video content generate up to 83% more traffic than articles without videos.
(SemRush)
FAQs
1. Is Copywriting in High Demand?
Yes. Copywriting is still in high demand and will still be in the nearest future. Even though AI has risen and is rumored to be a threat to the copywriting job market, there is still a high demand for human copywriters. This is because real humans know how best to appeal to human emotions.
As long as more businesses continue to spring up and desire to increase their customer base, the demand for copywriters will keep increasing. It won't change. The only thing that may change is the copywriting trends, so you need to stay updated.
2. What are the 4Cs of Copywriting?
The 4C's are what guide an excellent copy. They are:
Clear
Concise
Compelling
Credible
3. What is the Growing Rate of Copywriting?
According to Career Explorer, copywriting is growing at a rate of 7.6%
4. What is the Difference Between Copywriting and SEO Copywriting?
Copywriting aims to create brand awareness and persuade customers and prospective customers to take a desired action — either to buy or signup for something. It can be Emails, sales copies, brochures, direct marketing sales, and so on.
On the other hand, SEO copywriting involves creating copy to rank on search engines. This is mostly for web copies that want to rank. SEO copywriting uses specific keywords and follows search engine rank requirements.
5. How Much Do Copywriters Charge Per Hour?
Copywriters charge differently. For example, a beginning copywriter will not charge the same rate as an expert. Also, the rate can differ based on the complexity of the copy.
Beginning-level Copywriters charge between $20 – $35 per hour
Mid-level Copywriters charge between $40 – $60 per hour
Expert-level Copywriters can charge between $65 – any amount that matches their services.
6. Do all Copywriters write for SEO?
Not all copywriters write for SEO. However, there are SEO copywriters. The difference between a copywriter and an SEO copywriter is that a copywriter merely writes to persuade an audience to purchase. In contrast, an SEO copywriter writes to persuade an audience and at the same time rank on the first pages of search engines.
7. What does a B2B copywriter Do?
B2B stands for business to business and it is quite different from B2C which stands for business to customers. B2B copywriting is a form of copywriting whereby the content written is targeted at other businesses.
As a B2B copywriter, you would be writing to other businesses to present your services or product. Your focus as a B2B copywriter is more on the relationship built between your brand and other brands.
Contents written are usually in the form of emails, social media ads, case studies, etc. There are certain rules to make sure your B2B copywriting achieves the goal of conversion. The first rule is that your tone has to be a bit formal because you are not dealing with businesses, not individuals.
Your message also has to be very clear and straight to the point. You must leave no room for confusion by expressing complex information in the simplest way possible.
Sources: