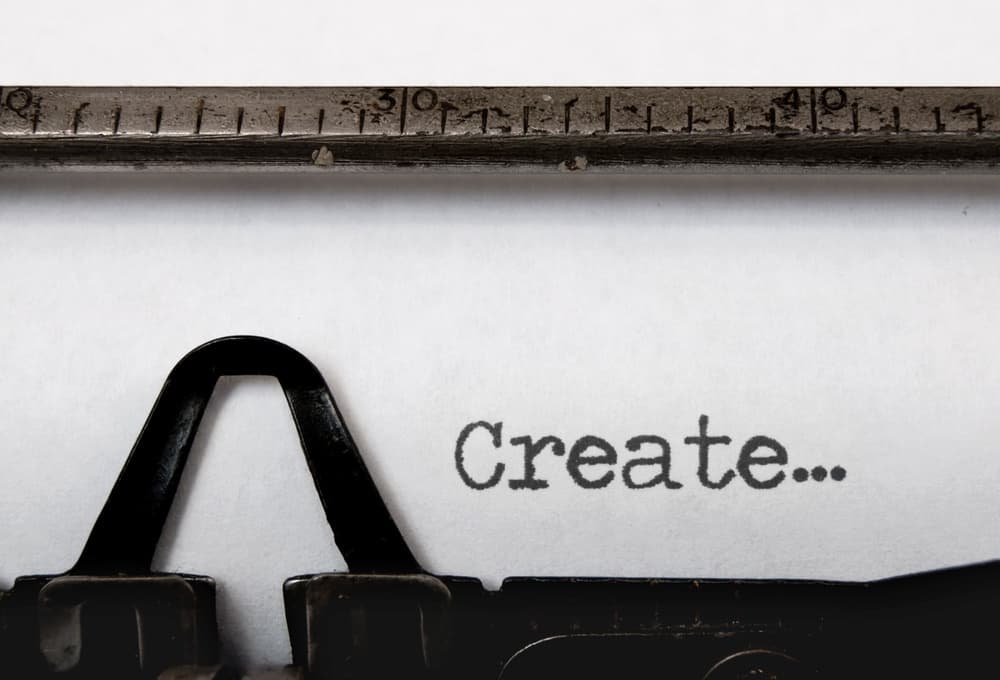 As a writer constantly on the lookout for creative solutions to improve my writing process, I recently stumbled upon Writesonic, a powerful AI copywriting tool. With numerous AI-based writing tools on the market, it's essential to understand the features and effectiveness of each one, and that's exactly what I intend to explore in this article.
The big question I want to answer is: How good is Writesonic for generating copy?

My Take
Writesonic offers me and my team an AI writing assistant to generate long-form content and also quickly rephrase and summarize our content while making necessary improvements. What's more, it uses GPT-4, the most advanced generative AI model, to produce more natural and reliable content compared to other tools I have tried in my content business.
| | |
| --- | --- |
| Best For | Blog Posts |
| Price | $19 |
| Discount | 10,000 words FREE |
| Promotion | free accounts available |
During my analysis of Writesonic, I found that it offers a wide range of features, including everything from headlines and Facebook Ads to full-length articles.
This AI software reportedly uses proven copywriting formulas to produce advertising hooks, ensuring a high-quality output for various types of content. Furthermore, Writesonic's credit-based pricing system and package options cater to different user needs, ranging from casual users to professionals and agencies.
My firsthand experience with Writesonic involved generating blog posts, article summaries, Twitter ads, Facebook ads, AI image generators, and YouTube copy. The tool supported me in these tasks and allowed me to enhance my writing by delivering content that required minimal human intervention to refine.
However, to fully grasp the value Writesonic brings to the table, we need to dive deeper into its features, strengths, and weaknesses.
Writesonic Overview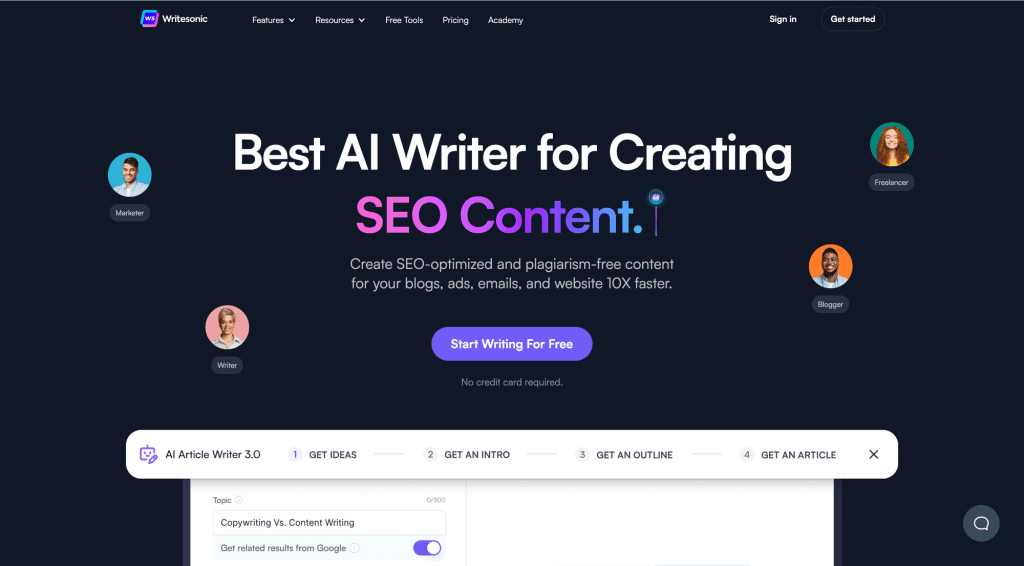 AI Writing Software
As an AI writing assistant, Writesonic aims to generate engaging content quickly and efficiently. Founded in 2020, this San Francisco-based platform utilizes artificial intelligence to automate various content creation tasks. By leveraging machine learning, Writesonic has become one of the leading AI writing tools on the market.
Productivity and Creativity
In my time using Writesonic, I found it to be quite adept at enhancing both productivity and creativity. The software takes care of repetitive tasks, allowing me to focus more on strategizing and planning my content. On top of that, Writesonic helps me overcome writer's block by providing fresh ideas for my copy.
Key Features
Here are some of the essential features I discovered while using Writesonic:
Startup Ideas: This feature is designed for small business owners and entrepreneurs looking to explore ideas from various angles. Brainstorming is made more effective with the help of Writesonic's artificial intelligence.
Pricing: Writesonic offers various pricing packages to suit different needs. The Basic package starts at $15 per month, providing 75 credits. However, for users seeking more credits, they can opt for the Professional, Startup, and Agency packages, priced at $45/m, $95/m, and $195/m, respectively. These packages come with unlimited credits.
Ease of Use: The software supports users with different levels of understanding when it comes to writing prompts. As I became more familiar with the platform, I found that it truly complimented my writing style and enhanced my content.
Writesonic AI writing software caters to various content creation needs. With powerful features and pricing packages to suit different budgets, it's a valuable addition to any writer's toolkit.
Content Creation with Writesonic
E-Commerce Content
As a freelance writer, I've found that creating e-commerce content is often time-consuming and challenging. With Writesonic, I can efficiently generate product descriptions, landing pages, and other types of e-commerce copy. The AI assistant offers a wide range of customization options, ensuring that the content I create is tailored to my clients' needs.
Blog Writing and Optimization
When it comes to blog writing, finding the right topic and keywords can be overwhelming. Writesonic helps me with blog outlines and even complete articles, saving me time and effort. The platform also supports optimization features, such as meta descriptions and readability scores, ensuring that my content is both engaging and easy to understand.
Social Media Content
Keeping up with multiple social media platforms can be challenging. Writesonic has made my life easier by assisting me in creating social media posts, including Twitter ads and YouTube copy. The AI assistant crafts creative, tailored copy that captures the attention of my target audience, while I can focus on other tasks.
Emails and Press Releases
Structuring emails and press releases correctly is crucial in the world of marketing. With Writesonic's help, I can draft attention-grabbing emails and press releases that adhere to industry standards.
The platform also provides grammar correction and suggestions for improvement, contributing to a polished final product.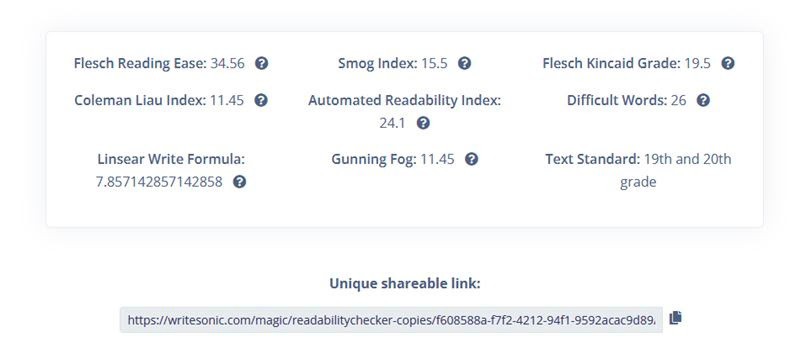 Writesonic has proven to be an invaluable tool for my content creation process. Whether it's e-commerce copy, blog posts, social media content, or writing emails and press releases, the AI assistant has made my work more efficient and effective. By integrating Writesonic into my workflow, I am confident that I'll continue to see positive results in my content creation endeavors.
Writesonic Pricing and Plans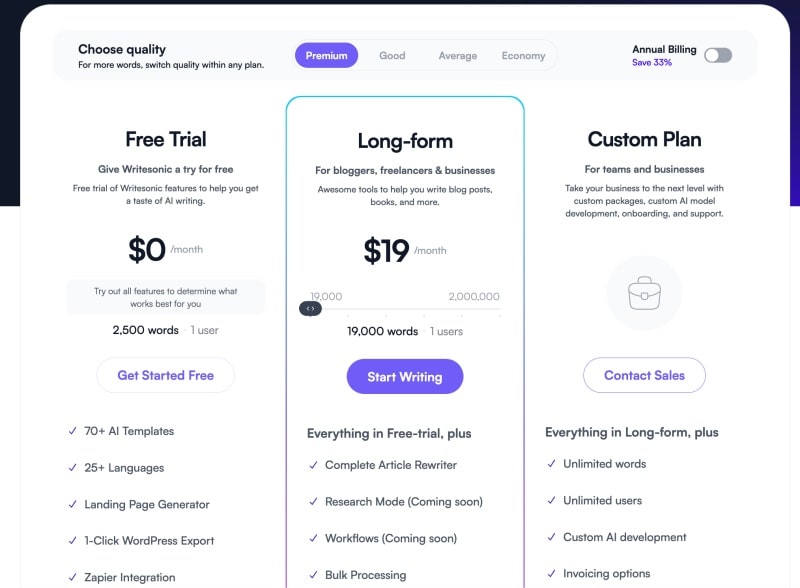 Free Trial
I tried Writesonic's Free Trial plan, which allows me to generate up to 10,000 words. It gave me plenty of opportunities to test the software, seeing if it fits my business needs. I was able to create various types of content, from blog posts to ads, without having to commit financially from the get-go
Writesonic paid plan
Pro plan (Monthly):
Starts from $19/month for 100,000 words that refresh every month.
Enterprise plan:
If you need more user seats or words, you can contact their sales team for a customized plan.
For the paid plans – Writesonic offers two quality options for a content generation – Premium quality and Superior quality. The Premium quality option runs on GPT-3.5 and custom-trained models, while the Superior quality option runs on GPT-4 and other custom models.
The Premium quality option offers 3x more content than the Superior quality option, but the latter provides higher quality and longer outputs.
The largest model trained on billions of parameters runs in the Superior quality option, which understands the context and generates intelligent content. The output length in the Superior quality option is 6000 words at a time, while the output length in the Premium quality option is 3000 words.
In my experience, Writesonic offers a variety of templates designed for short and long-form content. This aspect of the tool was particularly useful for streamlining my copywriting process. The templates can be easily customized and cover a wide range of content types, from social media ads to email marketing and much more.
By utilizing Writesonic's pricing and plans, I found that the platform offered an effective and budget-friendly solution for my copywriting needs. Remember, though, it's essential to assess the platform's features against your own business requirements and budget constraints to determine Writesonic's compatibility with your needs.
Unique Features and Tools
Content Rephraser
As a copywriter, sometimes I find myself stuck with writer's block or struggling to find the perfect way to phrase a sentence.
With Writesonic's Content Rephraser, I can input my original text, and the AI will provide me with alternative phrasings that maintain the original meaning while making it more engaging and unique. This helps me avoid plagiarism and ensures my content is both accurate and fresh.
Sentence Expander
When writing, I often need to enhance my sentences to be more informative or descriptive.
Writesonic's Sentence Expander tool is my go-to in these situations. I simply write a short sentence, and the tool expands it, adding relevant keywords and details to create a more engaging reading experience for my audience. It has significantly improved the quality of my content.
AI Article Writer 3.0
The AI Article Writer 3.0 tool from Writesonic is a unique feature that helps me tackle copywriting projects faster and more efficiently. By providing this tool with a few keywords or a brief description, I receive an AI-generated article that's well-structured and thought-out. Of course, I always fine-tune the content to ensure accuracy and relevance, but it is an invaluable aid in overcoming writer's block and meeting deadlines.
SEO Meta Descriptions
To improve the visibility of my digital articles and ads, I use Writesonic's SEO Meta Descriptions tool. This feature crafts captivating headlines and meta descriptions, which are crucial for search engine optimization. As a result, my content ranks higher in search results and attracts more visitors, which is essential for digital marketing success.
Chatbot and Customer Service
Customer service is an integral part of any business, and efficient communication with customers is crucial.
Writesonic helps automate this process with its Chatbot tool. This AI-driven feature handles basic customer interactions, such as answering frequently asked questions and providing relevant information. It not only saves me time but also ensures fast and efficient customer service.
ChatSonic
Finally, the ChatSonic feature is a powerful tool that I use to create conversational experiences tailored for various platforms. This is a ChatGPT alternative kind of tool, built into Writesonic.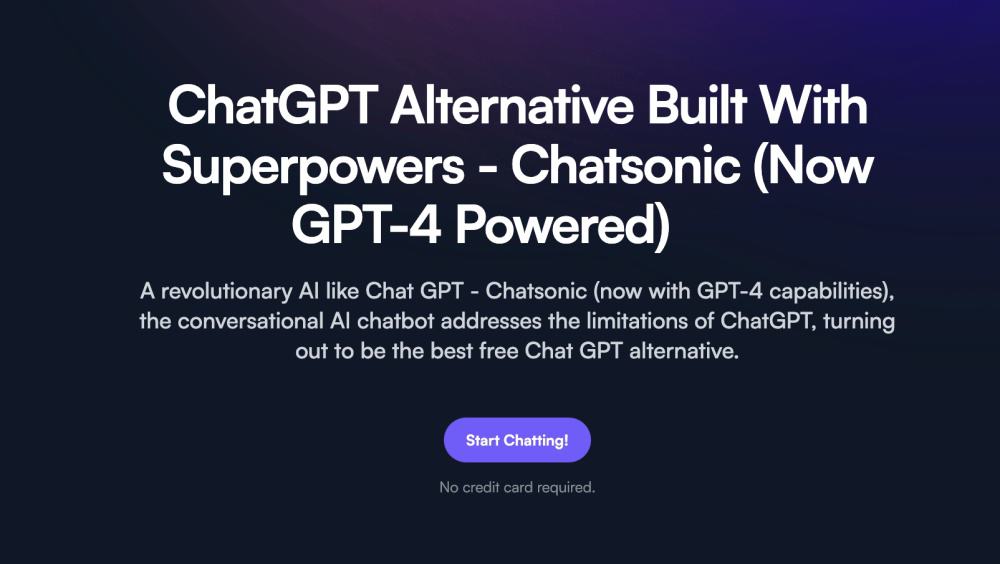 It uses Natural Language Processing (NLP) and Machine Learning (ML) technology to automate the text and image generation process. It is based on the latest GPT-4 model and is designed to address the limitations of ChatGPT by OpenAI.
ChatSonic has a powerful connection to Google for the latest information on events and topics, which allows it to provide accurate answers to any query and solve day-to-day tasks in an efficient manner. Unlike ChatGPT, which is limited by its training, ChatSonic has the option to query Google search in real-time, thus being able to come up with hyper-relevant content, even on newer topics.
Writesonic Pros and Cons
Advantages
In my experience with Writesonic, I found that it offers several advantages for users in need of an AI writing tool. It is particularly helpful for entrepreneurs, small business owners, and those looking for assistance with their writing projects, such as blog posts and marketing materials.
Free to use: Writesonic is free to use for all
User-Friendly Interface: Writesonic's straightforward beginner-friendly user interface makes it easy to navigate through the platform and use its various features.
Content Quality: Writesonic excels at outputting both short and long-form content, providing quality text that requires minimal editing.
Integrated Tools: The software comes with a range of helpful tools, including grammar and spell checkers, which help users produce high-quality work. In addition, it offers an impressive idea generator that provides unique writing prompts for inspiration.
Affordability: Writesonic's pricing plans are quite reasonable, making it an accessible option for individuals and small businesses alike. Plus, the long-form subscription tier includes a high minimum monthly word credit of 47,500 words.
Drawbacks
While Writesonic has its advantages, it is important for potential users to be aware of its limitations as well.
Customer Service: One drawback I encountered is the platform's poor customer service, which might be a concern for users who require active support while using the software.
Inconsistency in Long-Form: While Writesonic is efficient at generating short-form content, its long-form performance can be somewhat inconsistent. This may require additional editing, especially if the text generated is not in line with the desired tone or voice.
It's worth considering these pros and cons before deciding if Writesonic is the right AI writing tool for your needs. As a user myself, I have found value in the platform, especially for short-form content generation and idea formulation. However, the drawbacks should be considered as well, ensuring that it aligns with your specific requirements and expectations.
My Favorite Writesonic Alternatives (and how they differ from Writesonic)
Jasper AI
I find Jasper AI to be one of the best alternatives to Writesonic. Jasper offers a user-friendly interface and an impressive selection of templates for various types of content. Its advanced AI generates human-like text that truly understands the context I'm writing about. Though Writesonic provides engaging content, Jasper AI's wide variety of integration options stands out to me.
Rytr
Another alternative I appreciate is Rytr. Rytr is a more budget-friendly option compared to Writesonic, while still maintaining high-quality content generation. Rytr offers a simpler interface, which makes it easy to navigate, but it may not have as many templates as Writesonic. However, I find Rytr's output to be just as engaging.
Copy AI
Copy AI differs from Writesonic in that it focuses more on short-form content, such as social media posts and product descriptions. This tool is excellent for quick content generation when I need it the most. While Writesonic offers a more comprehensive content generation, Copy AI is perfect when I'm looking to save time on smaller tasks.
Koala Writer
I've found Koala Writer to be a solid alternative to Writesonic, thanks to its real-time collaboration capabilities. When working with a team, Koala Writer offers a simple way to work together on content generation. This feature sets it apart from Writesonic, which is more tailored to individual users.
Quillbot
Quillbot is another Writesonic alternative I often use. It offers a unique paraphrasing tool, which helps to improve the readability of my content without losing the original meaning. While Writesonic generates content, Quillbot functions more as a rewriter, which comes in handy when I need to rephrase existing copy.
ChatGPT
Finally, ChatGPT is an alternative I find interesting due to its conversational AI capabilities. Unlike Writesonic, which focuses on content generation, ChatGPT is designed to engage with users through contextually appropriate language, simulating a human conversation. I find it beneficial when I'm looking for a quick content suggestion or a creative way to generate ideas.
In summary, each of these alternatives has its unique features and strengths compared to Writesonic. Depending on my content needs and preferences, I choose the most suitable one to help me create engaging and authentic text.
FAQs on Writesonic Review
Is Writesonic free?
No, Writesonic is not entirely free. They do offer a free trial for new users, but after that, you will need to purchase one of their subscription plans to continue using the platform.
Can Writesonic write code?
While Writesonic is an AI-powered writing assistant, it's primarily designed to generate content such as blog articles, social media posts, and marketing copy. It may not be ideally suited for writing code. However, you could use it for generating comments or documentation for your code.
Can Writesonic be detected?
It might be possible for a careful reader or advanced plagiarism detection software to detect that the content has been generated by an AI. However, the quality of the text produced by Writesonic is often high and may require only minimal editing to make it more human-like.
Does Writesonic use GPT-3 or GPT-4?
Writesonic is based on OpenAI's GPT-3, a powerful language model known for its ability to generate high-quality text based on input prompts. GPT-4 has not been released yet.
Does Writesonic plagiarize?
Writesonic generates unique content based on the prompts you provide. Although the platform uses AI to create the text, it should not plagiarize as long as the input prompts are original. However, always review and edit the content to ensure it meets your standards for originality.
Does Writesonic have a limit?
The Basic package of Writesonic comes with a limit of 75 credits per month. With the Professional, Startup, and Agency packages, you get unlimited credits, but these plans are priced higher.
How much does Writesonic cost?
Writesonic offers just a few subscription plans:
Free: $0/month with 10,000 words
Pro: $19/month with 100,000 words
Enterprise: contact support
Is Writesonic better than ChatGPT?
It's difficult for me to definitively say if Writesonic is better than ChatGPT, as both AI tools have their strengths and weaknesses. Writesonic is known for its ease of use, wide range of templates, and ability to generate unique content. ChatGPT, on the other hand, excels in generating human-like text and has strong conversational capabilities. Your choice may depend on your specific needs and preferences.