In this post, we're going to cover every detail you require to understand about Writesonic Chrome Extension.
We shall all concur that Writesonic is a very good machine for marketing experts, copywriters, and also content article writers.
Writesonic has a free Chrome extension (ChatSonic) that provides real-time answers to your questions. The Writesonic Chrome extension is a great ChatGPT alternative that helps you write copies based on your prompt.  With so much hype on ChatGPT and its human-like responses, you can easily miss out on this Chrome extension.
As someone who uses AI copywriting tools daily, I immediately got interested in the Writesonic Chrome extension. After downloading and testing the tool, I was impressed at the high-quality answers I got. 
In this article, I will cover everything you need to know about the Writesonic Chrome extension.
Note: The Writesonic Chrome extension is also called the ChatSonic Chrome extension.
What's Writesonic? An Overview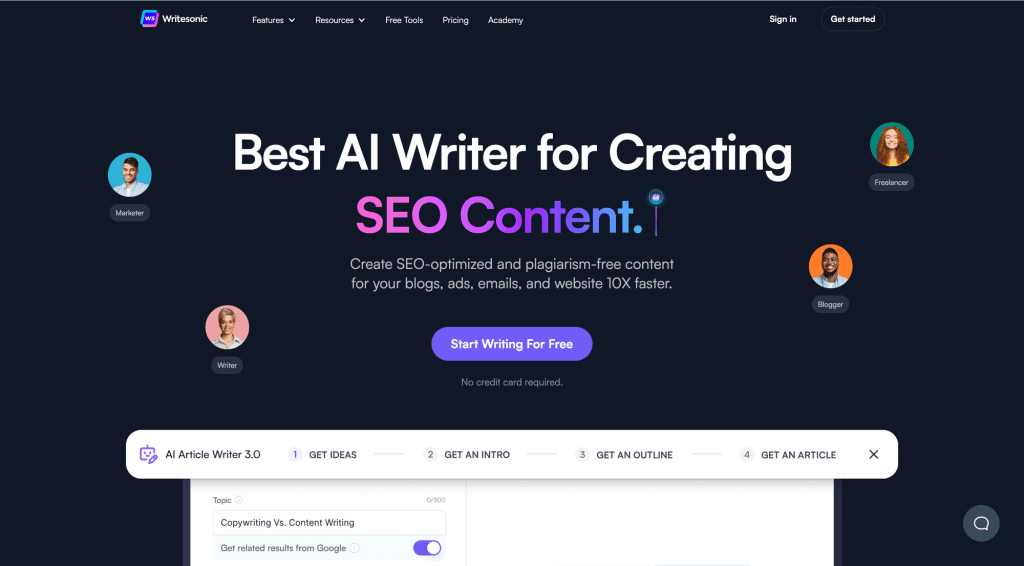 Writesonic is one of the best AI content generators designed for creating different content like blog posts, ad copies, and social media posts. The AI tool can auto-generate text based on the words you input.
You can get smoking hot content around any given subject within 15 seconds. The speed you get from using this tool is mind-blowing.
Writesonic can create engaging content with a touch of human feel. The AI was developed by Samanyou Garg in 2021. Garg has previously been a victim of writer's block and had issues coming up with the right copies to sell his digital.
These problems brought out the innovator in him. He came up with this great software tool now trusted by 1 million+ marketing teams, agencies, and freelancers.
Writesonic can seamlessly create engaging landing page copy, ads copy, youtube intros, and article intros. I use Writesonic for my content needs and wrote a detailed review of my amazing experience. 
How Does the ChatSonic Chrome Extension Work
The ChatSonic Chrome extension by Writesonic is a great alternative to ChatGPT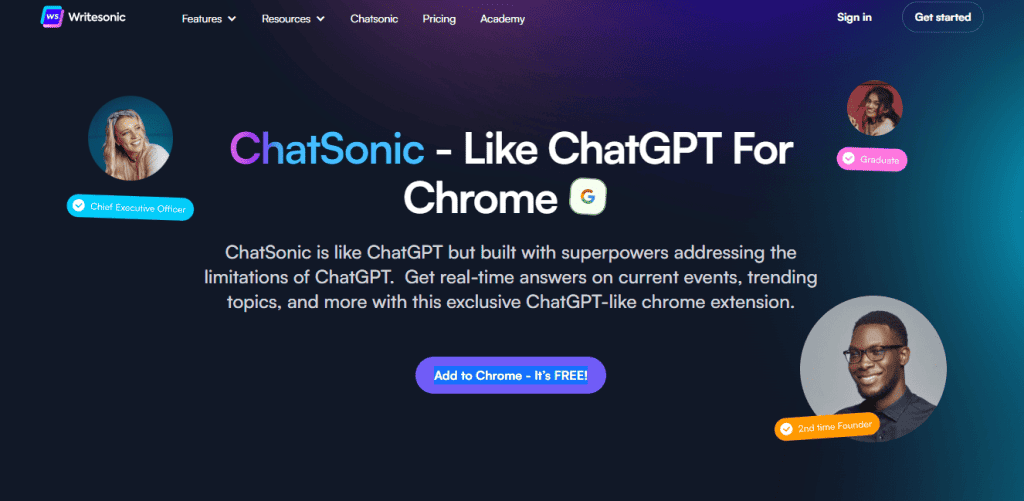 Download the Chrome Extension
Visit the Writesonic website to download the ChatSonic Chrome extension. It is free to download and install. Click on the "Add to Chrome – It's FREE!" button.
Add to Chrome
The "Add to Chrome – It's FREE!" button will direct you to the Chrome store. Click on the "Add to Chrome" button and watch it download and install automatically.
Sign Up for an Account
Before you can use the ChatSonic Chrome extension, you must create an account. The registration possess is easy, you can sign up with your email and password, or your Gmail account.
Launch the Software
Use the shortcut CMD+M to launch the extension. You can set how you want to trigger the extension and even change the default command prompt. Without an internet connection, you cannot use it.
Start Using ChatSonic Chrome Extension
Use the ChatSonic Chrome extension to get answers to your questions, rewrite the highlighted text, write and reply to emails, generate unique content, and whatever your imagination wants.
ChatSonic Chrome Extension Features
Here are some features of the ChatSonic Chrome extension that make it special and worthwhile. 
1. Chat with the AI
Writing factual and trending content with ChatSonic is like child's play. The AI is programmed, trained, and powered by Google Search to have insightful conversations with you on trending topics in real time.
You can ask any question and expect accurate answers immediately. While you are writing and you require certain vital facts, you can ask the AI and get the information in real time.  
2. Write Anywhere and Everywhere
ChatSonic Chrome extension eliminates the limits of having to be in a particular location before you can write. With this tool, you can easily sync various devices and continue your work irrespective of the location you are in. 
The AI writing software can create a detailed article about any topic of choice.
3. Get Answers Directly on Google Search
Since the ChatSonic Chrome extension by Writesonic integrates with Google, you can get answers directly on Google Search.
You can conduct detailed research with this feature and get your information from top-ranking sources. I use it to get a quick summary of what I am searching for and compare it with the recommended pages for my search term on Google.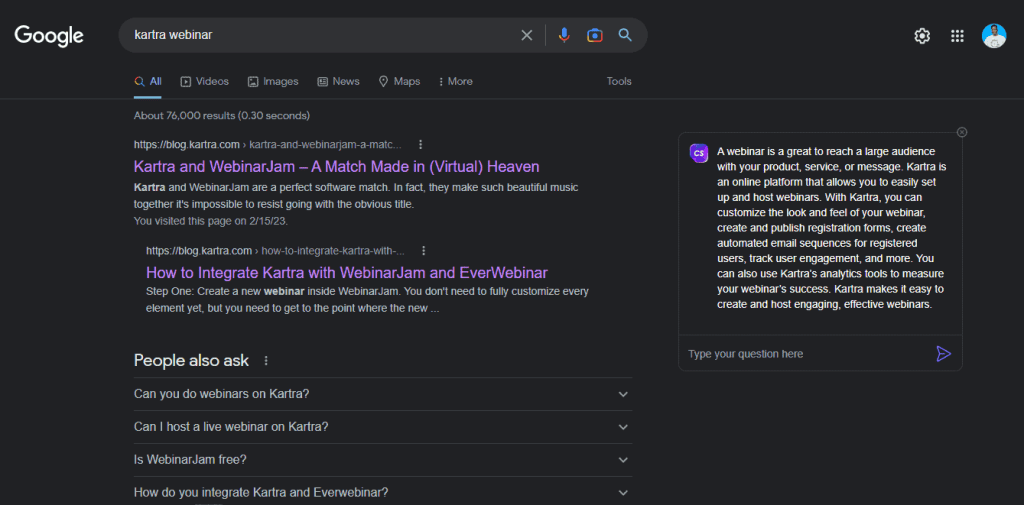 4. Generate Tweets
The ChatSonic Chrome extension solves the stress of coming up with new ideas for tweets. You can easily generate attention-grabbing tweets about any topic that will attract wide engagement and wow your audience.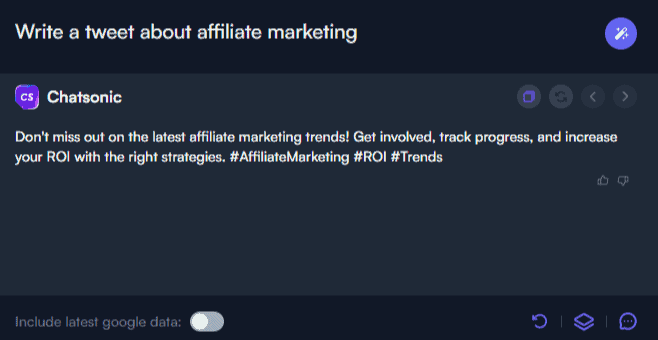 5. Write and Reply to Emails
Not everyone is good at writing emails. The ChatSonic Chrome extension can help you write different emails like formal, informal, business, and academic emails. 
Apart from writing emails, the tool is great at replying to emails. It generates the perfect text that responds accurately to the original email.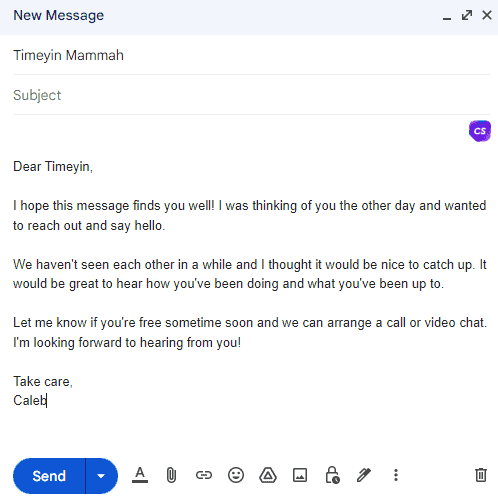 Practical Writesonic Chrome Extension Examples
Create a Tweet on the Best Affiliate Marketing Trends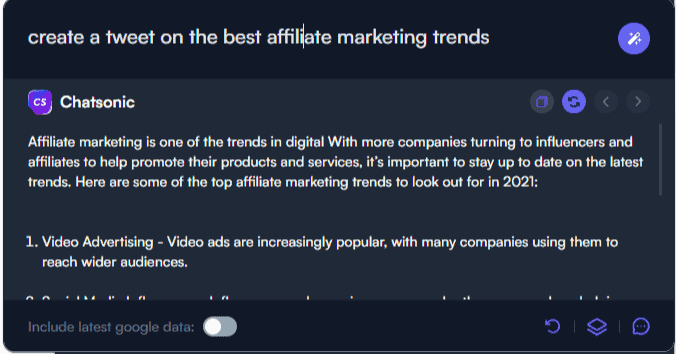 Create an Ad Copy to Sell Fitness Books on Amazon
Create a Market Campaign for an Online Dating Course
Write a review on the movie Black Panther
What I Like About Writesonic Chrome Extension
25 free generations per day.
Writes engaging factual-based content including real-time topics.
Voice command to ease typing stress.
Generates great content for social media, websites, reviews, and blogs.
Not restricted to 2021 data.
Access to the latest and trending topics with Google-search integration.
AI image generation.
Works everywhere online.
What I Don't Like About Writesonic Chrome Extension
The software is still in its beta testing phase.
Lacks a plagiarism checker.
What People Are Saying About Writesonic Chrome Extension
Who is Writesonic Chrome Extension Best For?
Writesonic Chrome extension (ChatSonic) is not limited to a particular group of people. As long as you are into content creation, this Chrome extension is for you.
1. Copywriters
Copywriters can use the Writesonic Chrome extension to tackle the dreaded writer's block. This AI tool helps you write ad copies, emails, and marketing campaigns. You can create engaging content in any field or topic within seconds you are sure to spend less time writing. 
Time management is one of the major benefits it offers to copywriters as it allows them to do much in less time.
2. Bloggers
The Writesonic Chrome extension is best for bloggers. As a blogger, I use this AI tool to create many articles that rank high on search engines. Every time I use the tool, the outcome always leaves a good impression.  
What I love about the Writesonic Chrome extension is how it helps to shorten the time I spend generating content.
3. Marketing Agencies
A major fuel of marketing agencies is content. Marketing agencies use the Writesonic Chrome extension as a research tool to help their writers quickly deliver well-researched and factual content to their target audience. 
4. Affiliate Marketers
As an affiliate marketer, Writesonic is instrumental to my work. Discovering trending products that I can market and earn commission is one of the ways I use this tool.
I can create engaging ad copies, articles for my affiliate blog, content for my landing page, and generate smooth replies for my emails.
5. Students
Research is key to every student's success. Students can get quick and fast answers to various questions across various fields with this tool. Completing an assignment worth an A+ grade is easier with the Writesonic Chrome extension.
6. Entrepreneurs
Entrepreneurs can use the ChatSonic Chrome extension to find the best tips for improving their businesses. 
The AI Chrome extension can write and reply to business emails, create memos, draft business letters, and help create marketing campaigns.