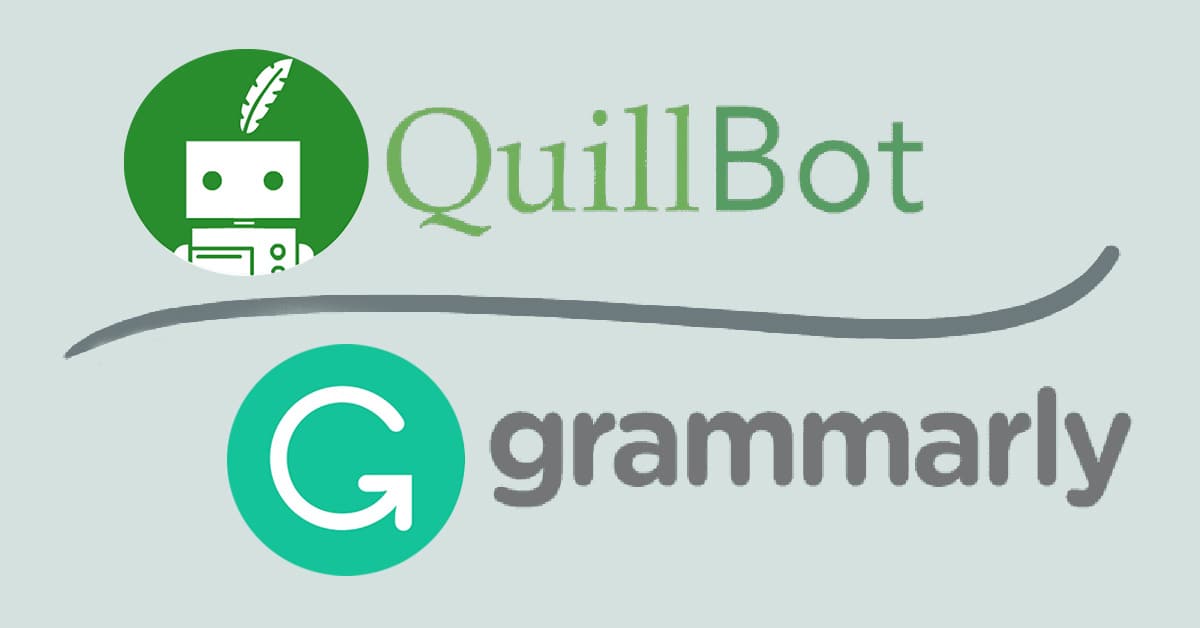 In this article, I will be comparing two popular writing assistants: QuillBot and Grammarly. Both software are very popular and used by millions of individuals and businesses to paraphrase, proofread, and check for plagiarism.
 Although both tools are a must-have for anyone in the writing space, they both have their unique strengths and weaknesses. I will carefully explain and list all you need to know about these tools, and which is best to use.
As a content writer myself, I love using both tools to perfect my writing, so this will be a tough but detailed comparison of the two based on my experience.
QuillBot Vs. Grammarly: Table Comparison 
| | | |
| --- | --- | --- |
| Features | QuillBot | Grammarly |
| Free Plan: | Yes | Yes |
| Plagiarism Checker: | Yes | Yes |
| Paraphrasing Tool: | Yes | Yes |
| Sentence Rewriter: | Yes | Yes |
| Third-Party Integration: | Yes | Yes |
| Tone Checker: | Yes | Yes |
| Chrome Extension: | Yes | Yes |
| Grammar Checker: | Yes | Yes |
| Translator: | Yes | No |
| Essay Checker: | No | Yes |
| Youtube Video Summarizer: | No | No |
| Find Synonyms: | Yes | No |
| Citation Generator: | Yes | Yes |
| Team Collaboration: | Yes | Yes |
| Analytics: | No | Yes |
| Third-Party Integration: | No | Yes |
| Word Spices: | Yes | No |
| Writing Assistant: | Yes | Yes |
| Personal Dictionary: | No | Yes |
| Weekly Report: | No | Yes |
| Goal Setting: | No | Yes |
1. Chrome Extension
Both QuillBot and Grammarly offer Chrome extensions, enabling you to access its spelling and grammar checker within the Chrome browser for a seamless writing experience. 
2. Third-Party Integration
Both QuillBot and Grammarly integrate well with third-party applications, thereby expanding their usability. 
Grammarly integrates with popular apps like MS Office Suite, Google Docs, Outlook, WordPress, Slack, Discord, and Apple Mail. On the other hand, QuillBot integrates with Gmail and Google Docs.
3. Word Translator
While Grammarly only focuses on English content, for now, QuillBot stands out with its Word Translator feature. 
QuillBot allows you to write content in various languages and translates it into English. It supports multiple languages, including French, German, Portuguese, Arabic, Hindi, Hebrew, and Spanish.
4. Paraphrasing Tool
QuillBot takes the lead in this feature. QuillBot is an excellent paraphrasing tool and the most popular paraphrasing tool for students, bloggers, marketing professionals, etc. 
The QuillBot paraphrasing tool can help you paraphrase your sentences in the best way possible. It also makes suggestions on words to use, and the best way to paraphrase it.
Grammarly has a paraphrasing tool that is available on its premium plan. It works just like QuillBot, but for this feature, I prefer QuillBot.
5. Tone Checker
Both QuillBot and Grammarly provide a tone checker feature to help you understand the tone of your writing and connect effectively with your audience.
6. Sentence Rewriter
Both QuillBot and Grammarly offer sentence rewriter features. 
QuillBot excels in this category, providing you with options to improve sentence structure, expand or shorten content, and enhance overall readability. 
While Grammarly is not primarily focused on sentence rewriting, it can still assist in optimizing sentence structure.
7. Essay Checker
Grammarly stands out with its Essay Checker feature, specifically designed for college students.
It helps with checking for grammatical errors, tone usage, vocabulary, synonym suggestions, sentence clarity, and unintentional plagiarism detection.
8. Grammar Checker
While both QuillBot and Grammarly offer grammar-checking capabilities, Grammarly is known for its exceptional grammar-checking abilities, providing comprehensive and accurate suggestions. 
QuillBot's grammar-checking tool is also sharp but I prefer that of Grammarly.
9. Citation Generator
Both Grammarly & QuillBot offer the citation generator feature in their software. With this feature, you can easily generate citations while conducting research. 
This feature supports various writing styles and streamlines the citation process.
This feature is present in Grammarly Business and QuillBot Premium.
10. Plagiarism Checker
Both QuillBot & Grammarly have a plagiarism checker feature, ensuring content authenticity by scanning for duplicate content online. 
The only downside is that you can only access this feature in their higher plans, i.e., Grammarly Business and QuillBot Premium.
11. Word Spices
The Word Spices feature on QuillBot is a suggestive tool that can help you improve the quality of your writing by suggesting alternative words that can make your writing more engaging and interesting. 
This feature is not available in Grammarly but if you want to use something like this in Grammarly, you can take advantage of its word suggestions.
12. Writing Assistant
Grammarly is an AI writing assistant that offers corrections and ideas to improve writing quality and clarity.
This feature is beneficial for non-native English speakers striving to produce concise and understandable content.
QuillBot has a writing assistant called co-Writer, which is an all-in-one writing assistant. 
It combines online research, note-taking, AI-assisted composition, and more to help you improve your writing skills. But this feature is only available on its Premium plan.
13. Goal Setting
Grammarly's goal-setting feature allows you to specify objectives for your content writing or editing. It offers options to define the target audience, formality, intent, and domain, ensuring the content aligns with specific goals and requirements.
While QuillBot and Grammarly share some similarities, they also have distinct features that cater to your various needs. Understanding these similarities and differences can help you choose the tool that best aligns with your specific writing requirements.
The following four options are available in Grammarly's style editor:
Audience– You can choose if you're writing for a general, knowledgeable, or expert audience. The more Grammarly knows about your audience, the better it can tailor its suggestions to suit your needs.
Formality– This determines the style of your writing, and it may be formal, casual, or impartial. Grammarly's suggestions can help you adjust your writing style to match your intended level of formality.
Intent– This option helps you determine the intent of your content. Is it to tell a story, inform, describe, or persuade? Grammarly's suggestions can help you adjust your writing to match your intended purpose.
Domain– You can choose your writing style, such as academic, business, email, general, or creative. Grammarly's suggestions can help you adjust your writing to match the conventions of your chosen domain.
14. Analytics
Grammarly takes the lead in terms of analytics, offering this feature through Grammarly Business.
The analytics feature helps you connect with your audience's emotions, requirements, and interests, resulting in more impactful content.
On the other hand, QuillBot does not have an analytics feature.
QuillBot Vs. Grammarly: Pricing Comparison
QuillBot Pricing
QuillBot offers three pricing plans. These plans include;
Free plan
Premium plan
Team Plan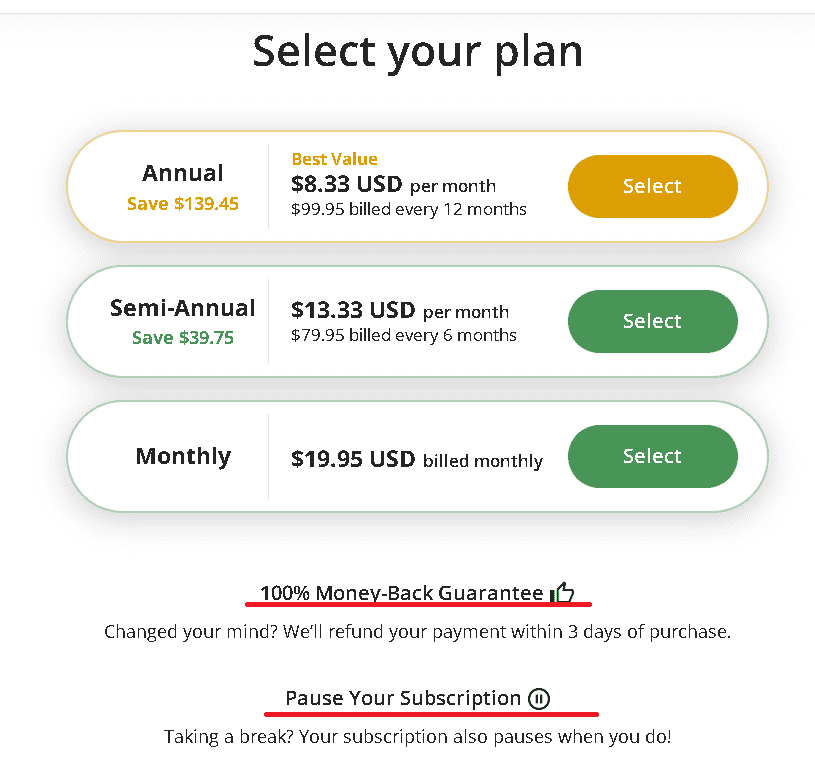 1. Free Plan
This plan doesn't require a credit card, and you can have monthly access to the following;
125 words for the paraphraser
1 freeze words and phrase
You can write in 1200 words for the summarizer tool
Access to 3 synonym options
Access to the standard mode of writing
2. Premium Plan
This plan comes in three different plans and they include; annual, semi-annual, and monthly plans. For the annual plan, you get to pay $4.17 per month and $49.95 for 12 months. For the semi-annual plan, you get to pay $6.66 per month and $39.95 every 6 months and for the monthly plan, you get to pay $9.95 monthly.
With this plan, you can get access to the following;
Unlimited words in the paraphraser
6000 words in the summarizer
Plagiarism checker
Plagiarism history
Tone detection
Unlimited freeze words
4 synonym option
Faster processing speed
3. Team Plan
To access this plan, you'll have to contact the sales team. This plan is for anyone with a large team. If your team consists of 5-10 writers, you get to pay $3.75 monthly while for 11-50 writers, you get to pay $3.33 per month.
There's also a plan for teams with 51+ writers and this costs $2.91 per month per writer.
Grammarly Pricing
There are three basic plans for this platform. These plans include;
Free plan
Premium plan
Business plan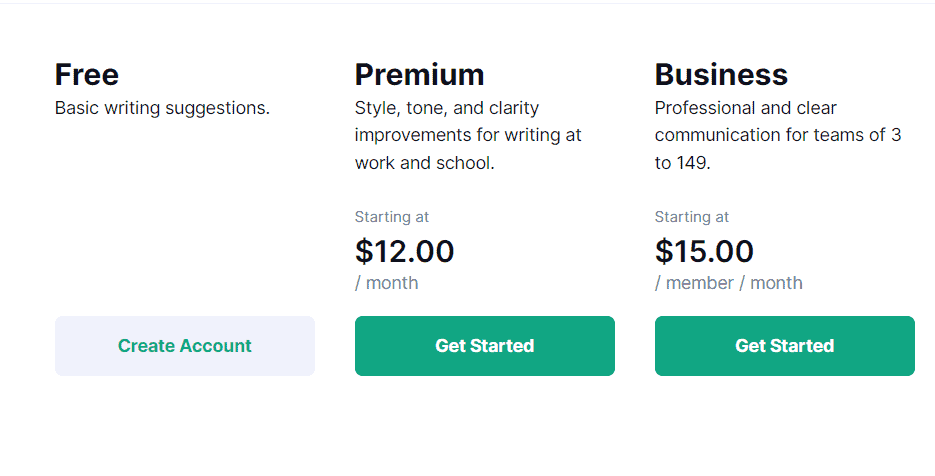 1. Free Plan
Grammarly has a forever-free plan for all its users and this plan doesn't require your credit card. For your writing, you're allowed to use the keyboard, web app, or plugin to check for errors.
Although this plan is limited, it still offers basic tone detection and writing suggestions. With this plan, you get access to the following;
Tone detection
Grammar checker
Spelling checker
Punctuation
Conciseness
2. Premium plan
This plan helps to improve style, tone, and clarity improvements for writing. It offers three billing plans which include; annual, quarterly, and monthly.
For the annual plan, you get to save 60%. It costs $12.00 monthly but if you want to pay for a year, it costs $144.00. The amount you get to pay for a year includes applicable charges on each renewal till you cancel your subscription.
For the quarterly plan, you get to save 33%. It costs $20.00 monthly but if you wish to pay for a year, it costs $60.00.The monthly plan costs $30.00.
The premium plan gives you access to the following;
Everything in Free
Clarity-focused sentence rewrites
Tone adjustments
Plagiarism detection
Word choice
Formality level
Fluency
Additional advanced suggestions
3. Business plan
This plan is available for companies with a large content writing team.
The price of this plan varies with the number of people on your team. For a minimum of three members for the annual plan, you'll be required to pay $15 per month and annually you get to save 40% and you'll get to pay $45.
For the monthly plan, you'll be required to pay $25.00 per month, but for more than three members, you will be charged $75.00 or more per month.
Overview Of QuillBot Vs. Grammarly
Both QuillBot and Grammarly are excellent AI writing assistants with a very large user base. These tools are a must-have for anyone who is into writing regularly. 
I will recommend both writing tools as they can be used side by side, but although they are proficient in their features, they have some cons you may have to consider before investing your money in them.
Overview of QuillBot
QuillBot is an excellent  AI software that makes us of cutting-edge natural processing language to rewrite, cite, summarize, and also proofread any form of essay or content you are working on. It was designed in 2017 by Rohan Gupta, and is currently been used by millions of students, researchers, and creators worldwide.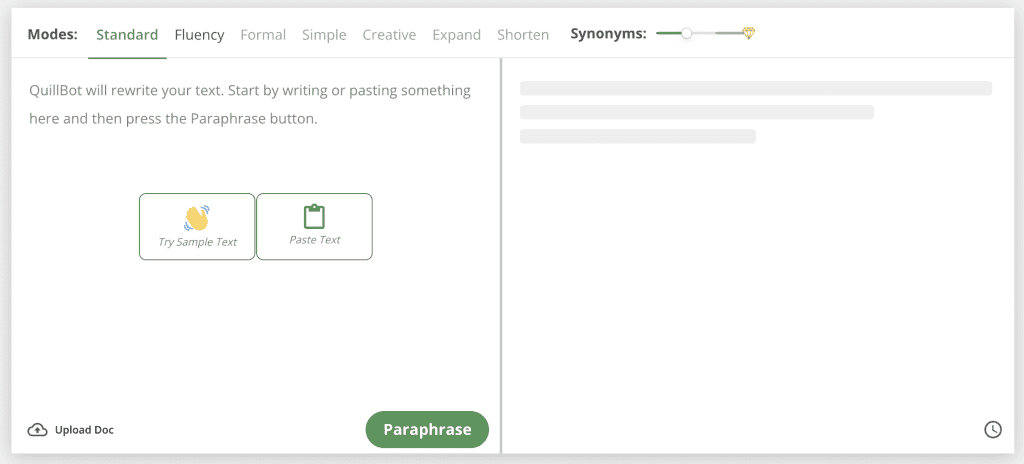 Part of the key features of QuillBot is that it has 6 unique paraphrasing modes. These paraphrasing modes can help you rewrite your content in any way or tone of voice you like. These modes include:
This mode paraphrases text in a basic way and still retains its original meaning
This mode helps to make the content sound more natural or real. It also corrects grammar errors
This mode does a lot of changes to the content and sometimes the original meaning might be lost
This model is a good choice for business writing or academic writing. It changes the content to sound more professional
If you don't want your readers to have a hard time understanding the terms you use in your article, then you can use this mode.
This mode makes the content easy to understand and puts complex English into simple English
If you want a higher word count, you can use this mode as it helps to increase it. Due to the addition of more content, the original content may tend to lose its original meaning
This mode reduces the content as much as possible into short content and still retains its original meaning
Overview of Grammarly
Grammarly is an AI tool that focuses on providing grammatical, spelling, and punctuation corrections in an article, message, or more.
It also has a writing assistant that makes certain suggestions on how sentences can be written in an article, mail, or social media platform.
This tool was developed by Max Lytvyn, Alex Shevchenko, and Dmytro Lider in 2009. Grammarly was established to utilize technology to assist individuals in saying and writing what they mean.
With Grammarly, you can now accomplish your objectives while feeling confident in your communication/ content writing abilities. Grammarly is best for freelance writers, Busy professionals, Small business owners, etc.
Below are the steps on how you can access the Grammarly free plan;
Login to Grammarly.com
You'll be required to sign up using Google, Facebook, or Apple
After this, you'll be required to put in your password
Then you can start using it for free
Grammarly works in two ways, which are new documents or inline checkers.
New Document: you can create a new document in Grammarly and have it instantly checked by clicking the Grammarly icon from the toolbar of your web browser.
Inline Checker: at the bottom right of the window, if you're creating a document, like with Google Docs, there is a small icon. You can view the outcomes of the real-time check by clicking that symbol.
Grammarly can be used to check your work through a desktop app, web tool, Microsoft Word, browser extension, and mobile phone.
Web tool
To analyze your content using the web tool, all you need to do is click on 'new' in the dashboard and you'll be given a blank page. Then you can proceed to copy your content and paste it on the blank page for Grammarly to access your work.
If it's a full document, you can upload it directly. All you need to do is click on 'upload' in the dashboard and Grammarly will do the rest.
Desktop App
Grammarly is available on MacOS and Windows. All you need to do is download Grammarly for the system and follow the installation process.
Microsoft Word
You can use Grammarly when writing on Word. All you need to do is add it directly to your Microsoft Word. Visit add-in Grammarly to Microsoft Word and follow the instructions. While using the tool in Word, you'll have to be connected to the internet.
Browser Extension
Grammarly extension will help check grammar errors for every website you use. You can also use it for Gmail, as it will assist you when writing a mail.
Mobile Phone
Grammarly has a keyboard that can be used on your phone. It is available for both Android and iOS.
With this, you don't need to bother about grammatical, spelling, or punctuation errors as the keyboard helps identify those errors.
You can download Grammarly's keyboard and speed up your writing process.
QuillBot vs. Grammarly: Pros and Cons 
QuillBot Pros 
It has a user-friendly interface.
Its free plan is available for forever use.
It offers a 100% money refund within three days.
Cons
Technical issues occur periodically.
Access to its plagiarism checker, co-writer, summarizer, and citation generator is only in its premium plan.
Human assistance is still needed after using its paraphrasing tool.
Grammarly Pros
It has a plagiarism checker
It has a grammar and spelling checker
It has a forever-free plan for its keyboard
It is easy to use
Cons
It has limited features in its free version
Its mobile app can be better
QuillBot Vs. Grammarly: Which Is The Best Writing Assistant?
QuillBot and Grammarly are both exceptional tools that assist in creating high-quality content. While Quillbot offers unique translation features, Grammarly is the best writing assistant due to its comprehensive and advanced functionalities. 
Grammarly has the necessary tools to produce neat & error-free content. Its plagiarism checker, grammar checker, tone checker, and thesaurus feature are very reliable.
On the other hand, QuillBot has great strength in its ability to paraphrase content, translate your writing into other languages of your choice, and has all the necessary tools needed to proofread your work excellently. This feature gives QuillBot a unique advantage over Grammarly.
If you have a diverse audience and are operating within a limited budget, QuillBot can be an excellent alternative. Its translation abilities and affordability make it a suitable choice for writers who require multilingual support.
However, your choice of writing assistant will depend on the writing features you need in the software and your budget.
Related posts: