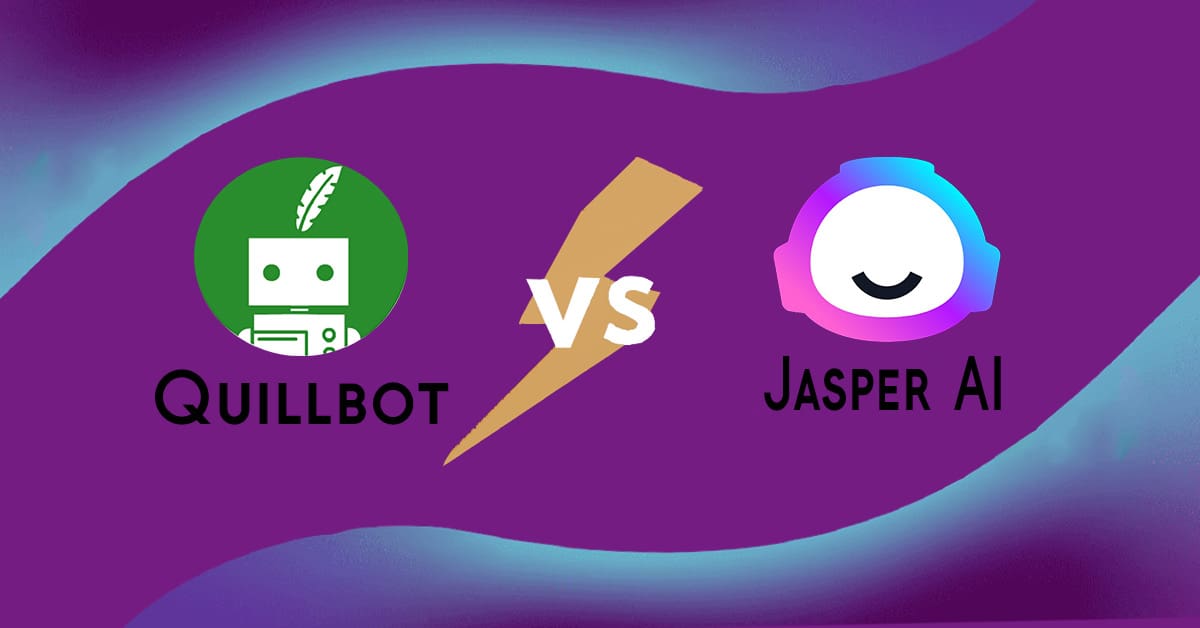 Quillbot & Jasper AI are AI-powered tools designed to enhance content creation by ensuring accuracy & quality in articles, journals, essays.
In this article, we will explore the features, pricing plans, & functionalities of both software.
By delving into their unique capabilities & workings, we aim to provide a comprehensive comparison that will assist you in making an informed decision.
Let's dive in & discover how these tools can improve your writing experience.
Quillbot Vs. Jasper.ai: Table Comparison
| Features | Quillbot | Jasper AI |
| --- | --- | --- |
| Free Plan/ Trial: | Yes | Yes |
| Plagiarism Checker: | Yes | Yes |
| Style Editor: | Yes | Yes |
| Paraphrasing Tool: | Yes | No |
| Third-Party Integration: | Yes | Yes |
| Tone Checker: | Yes | Yes |
| Browser Extension: | Yes | Yes |
| Grammar Checker: | Yes | Yes |
| Translator: | Yes | Yes |
| Essay Checker: | Yes | No |
| Content Generator: | No | Yes |
| Find Synonyms: | Yes | No |
| Citation Generator: | Yes | Yes |
| Team Collaboration: | Yes | Yes |
| SEO Tools: | Yes | Yes |
| Spell & Punctuation Checker: | Yes | Yes |
| AI Technology Used: | GPT-3 | GPT-3 |
| Writing Assistant: | Yes | Yes |
| Thesaurus: | Yes | No |
| Affiliate Program: | Yes | Yes |
| Money Back Guarantee: | Yes (Within 3 days) | Yes (Within 7 days) |
1. Browser Extension
Both QuillBot and Jasper AI offer Chrome extensions, allowing you to access these tools effortlessly and receive spelling and grammar checks for your written content on the Chrome browser.
2. Content Generator
This feature is only available on Jasper AI. JasperAI is a very popular content-generating tool, allowing you to save time in writing any content. With Jasper AI, you can generate various content like long & short-form blog posts, email scripts, marketing copies, recipes, academic essays, and so on.
This AI software is fast in doing so, and it can write In any tone of voice you want, and the content generated is plagiarism free.
This is not the case with Quillbot. It is not a content-generating tool. Instead, it is a writing assistant helping you to proofread and edit your written work. Hence, it can't be used to generate any form of content.
3. Translator
Both Quillbot and JasperAI allow you to write and translate your content into various languages. This is very helpful if you have a global audience. Jasper AI gives you access to translate your written content into over 30 languages.
Quillbot on the other hand allows you to translate content in over 31 languages. You can translate from one language to another with ease with this software.
4. Citation Generator
Quillbot has a citation generator that you can make use of to generate various citation styles for your writing or research work. You can generate citations in APA, MLA, and Chicago styles. This feature is not complex to use on this software but is only accessible to those using its premium plan.
JasperAI also allows you to generate citations but it is not as broad as that of Quillbot's.
5. Tone Checker
Both Jasper AI and Quillbot offer a tone checker feature. By using this functionality, you can detect the tone of your articles, posts, and copies.
It helps you connect with the emotions, requirements, and interests of your audience. However, it's important to note that Quillbot's tone checker feature is only accessible through its premium plan.
6. Paraphrasing Tool
Both Quillbot and JasperAI have the paraphrasing tool in their software.
Quillbot takes the lead in this feature. Quillbot is an excellent paraphrasing tool and the most popular paraphrasing tool for students, bloggers, marketing professionals, etc.
The Quillbot paraphrasing tool can help you paraphrase your sentences in the best way possible. It also makes suggestions on words to use, and the best way to paraphrase it.
JasperAI also allows you to paraphrase and rephrase sentences and paragraphs with ease, but this is limited and not as excellent as that of Quillbot.
7. SEO Tools
Both Quillbot and JasperAI have tools that can help you optimize your content for SEO. Quillbot helps you Paraphrase and rework your content title and meta description so that it is fit for search engines and can rank high on search engines also.
This is the same as JasperAI, but only that content generated with Jasper is SEO driven and can rank on Search engines. Jasper provides some SEO tools to help edit your content and optimize it, so it can rank high on Google's search engine.
8. AI Technology Used
Quillbot makes use of GPT-3 Technology and Natural Language Processing in its software. This makes this software very functional and fast in editing and proofreading content.
Jasper AI used to use the GPT-3 AI till they recently upgraded to cutting-edge GPT-4 to provide much better content. It also makes use of Natural language processing to function in its software.
9. Grammar Checker
Quillbot has a built-in grammar checker that can identify and correct some grammatical errors in your text.
Jasper AI does not have a dedicated grammar checker, but it can generate grammatically correct content based on your input.
10. Plagiarism Checker
Quillbot offers a plagiarism checker that can detect and highlight any copied content in your text.
You can access this feature with a premium subscription, but it is limited to 20 pages per month.
Jasper AI does not have its own plagiarism checker, but it integrates with Copyscape, a reliable and widely used plagiarism detection service. You can use this feature with any plan, but you have to pay an extra fee to Copyscape.
11. Team Collaboration
Both Quillbot and JasperAI allow for team collaboration within their software. Both software has a team pricing plan which allows 3 to 10 team members to access the software and collaborate on a written task with ease.
12. Money-Back Guarantee
Both software offers a money-back guarantee to its users who decide to cancel their subscriptions.
Quillbot money-back guarantee is the shortest. After testing out Quillbot for 3 days and you are not satisfied with the software, you can ask for your money back and it will be sent to you.
Quillbot only makes this available for three days after you have purchased a paid plan.
On the other hand, JasperAI gives a 7-day money-back guarantee only for new subscribers who have not completed the free trial.
Once you cancel your subscription, you have to reach out to the sales team to process your refund.
13. Affiliate Program
Both JasperAI and Quillbot offer affiliate programs to marketers or business owners who want to advertise this software to their audience for a commission.
The Quillbot affiliate program is also free to join, and Commission rates depend on the plans your customers are purchasing. For Monthly plans, it's 10%. For the Semi-annual plans, it's 15%. For annual plans, it's 20%.
On the other hand, the JasperAI affiliate program is one of the best affiliate programs for an AI writing tool. It is very easy to join the affiliate program only if you need to wait for confirmation before you get your link.
As an affiliate marketer, you will be earning 30% commissions and recurring commissions anytime your link is used to purchase or renew a paid plan.
Quillbot Vs. JasperAI: Pricing Comparison
Quillbot Pricing Plans
Quillbot has three pricing plans, and these plans include;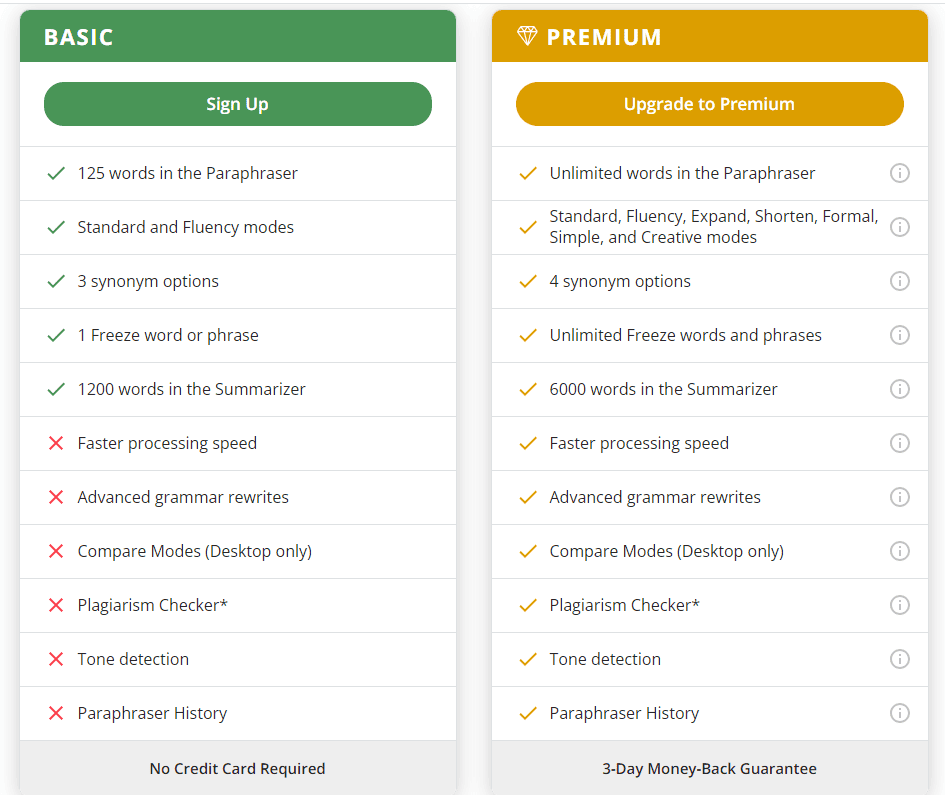 This is a forever free plan that can be used by all Quillbot subscribers or first time subscribers. With this plan, you are granted access to some of Quillbot's features.
This is Quillbot's paid plan and it has different categories you can choose from depending on how much you are willing to spend. With this plan, you get access to all of Quillbot's features.
The monthly plan costs $9.95, and the semi-annual plan costs $39.95 if billed every six months but you get to save 33% and pay $6.66 per month. Lastly, the annual plan is Quillbot's best plan and it costs $49.95 if billed yearly but you get to pay $4.17 per month and save 58%.
To access this plan, you'll have to contact the sales team. This plan is for anyone with a large team. If your team consists of 5-10 writers, you get to pay $3.75 monthly while for 11-50 writers, you get to pay $3.33 per month.
There's also a plan for teams with 51+ writers and this costs $2.91 per month per writer.
JasperAI Pricing Plans
Jasper.ai offers three pricing plans for different needs and budgets. You can choose from:
Creator Plan
Teams Plan
Business Plan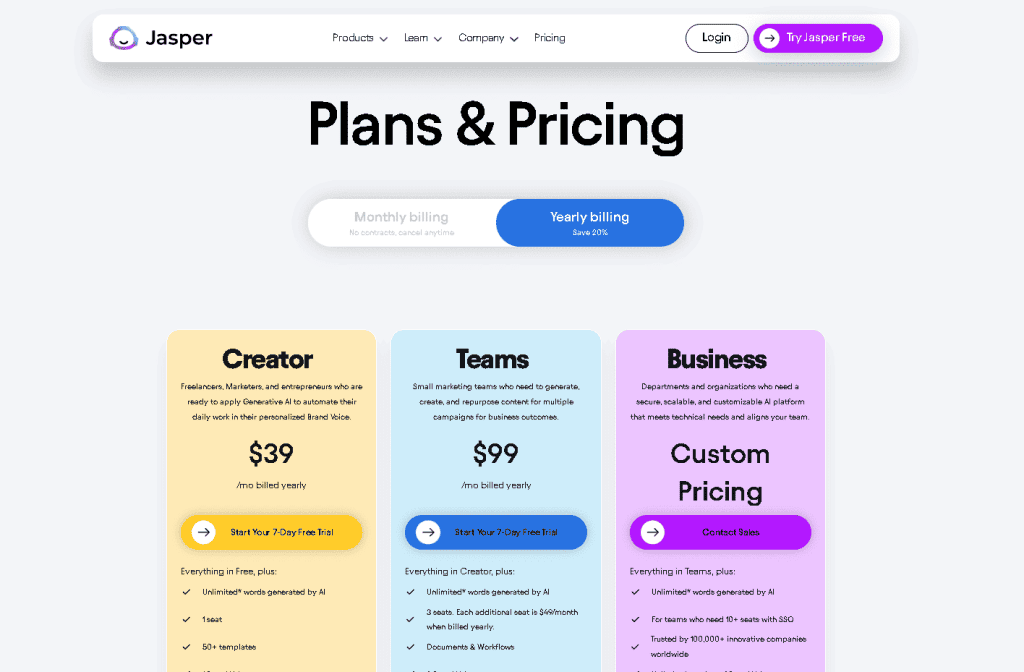 This plan is for freelancers, marketers, and entrepreneurs who want to use generative AI to automate their daily work in their personalized brand voice. It costs $39 per month billed yearly or $49 per month billed monthly.
This plan is for small marketing teams that need to generate, create, and repurpose content for multiple campaigns for business outcomes. It costs $99 per month billed yearly or $129 per month billed monthly.
This plan is for departments and organizations that need a secure, scalable, and customizable AI platform that meets technical needs and aligns your team.
It has custom pricing and you can contact sales to get a quote.
It includes everything in Teams, plus unlimited features, custom templates, and workflows, a dedicated success manager, API access, advanced admin analytics, SSO plus additional security review.
You can change plans or cancel anytime. You can also try Jasper for free for 7 days before you decide to buy a plan.
Note: JasperAI also has a free 7 days trial you can start with if you are new to the platform. It is advisable, to begin with the free trial to see if it meets your writing needs before committing to a paid plan.
Overview Of Quillbot Vs. Jasper AI
Quillbot and Jasper AI are remarkable AI tools that enhance content creation and improve the writing process.
You should know that although both software are excellent tools for checking plagiarism and proofreading your content before submitting or publishing, both of these tools are not in the same category.
Quillbot is a very excellent paraphrasing tool and writing assistant. On the other hand, JasperAI is an excellent content-generating software.
Here is an overview of both software
Overview Of Quillbot
Quillbot stands out as an exceptional AI tool, specializing in sentence rewriting and article enhancement.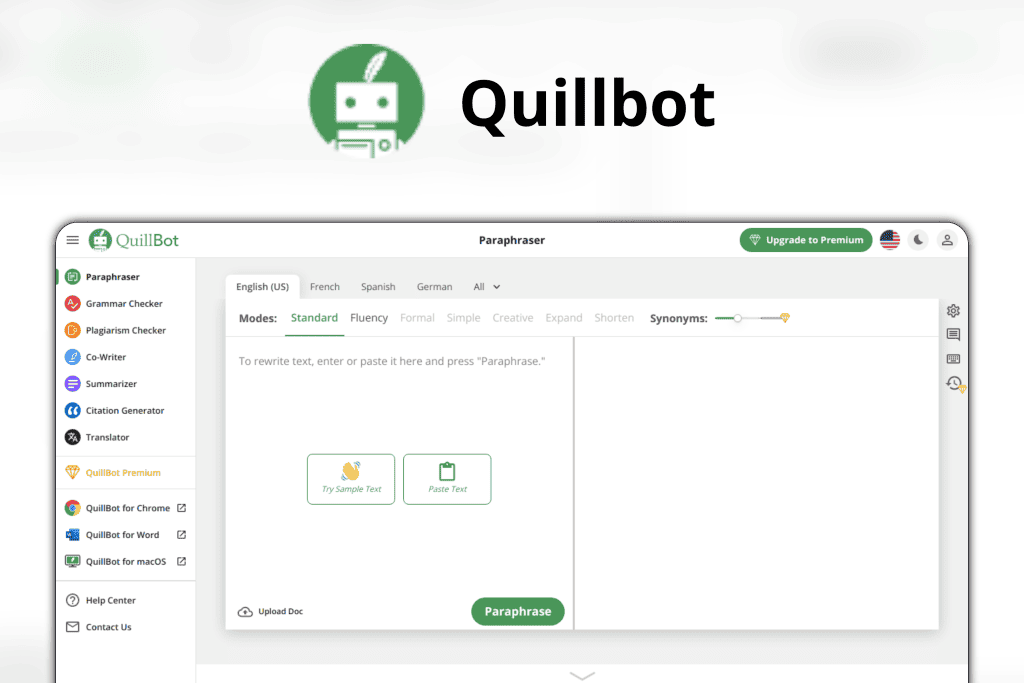 It goes beyond the basics of spell-checking, offering a comprehensive solution to refine clunky sentences and ensure a seamless flow of your content. This software is designed to empower users from diverse backgrounds, including freelancers, students, and content marketers.
Quillbot effortlessly adapts to different writing tones, allowing you to achieve the perfect balance between casual and formal language. Whether you're crafting a blog post or working on a business proposal, Quillbot helps you tailor your writing style to your needs.
Quillbot has made a significant impact on writing and content creation. It's advanced capabilities and user-friendly interface make it a valuable asset for writers seeking to elevate their work to new heights.
A notable advantage of Quillbot is its effectiveness for non-English speakers. If English isn't your first language and you often face the challenge of writing in English, Quillbot is the ideal solution.
Here is how the Quillbot desktop editor works.
Launch the Quillbot editor (after adding the Quillbot extension to your browser) by clicking on it.
Sign up using your Google, email, or Facebook account for a smooth onboarding experience.
Once logged in, Quillbot presents a concise and informative wizard. This helpful guide familiarizes you with the tool's functionalities, ensuring you clearly understand how it operates.
With wizard guidance, you are fully equipped to embark on your writing journey.
As you start writing, Quillbot displays the remaining number of rewrites at the bottom of your text. This feature allows you to easily keep track of your usage and make the most of the tool.
Overview of Jasper AI
Jasper AI, created by Dave Rogenmoser in February 2021, is an impressive AI tool that revolutionizes content creation and generation.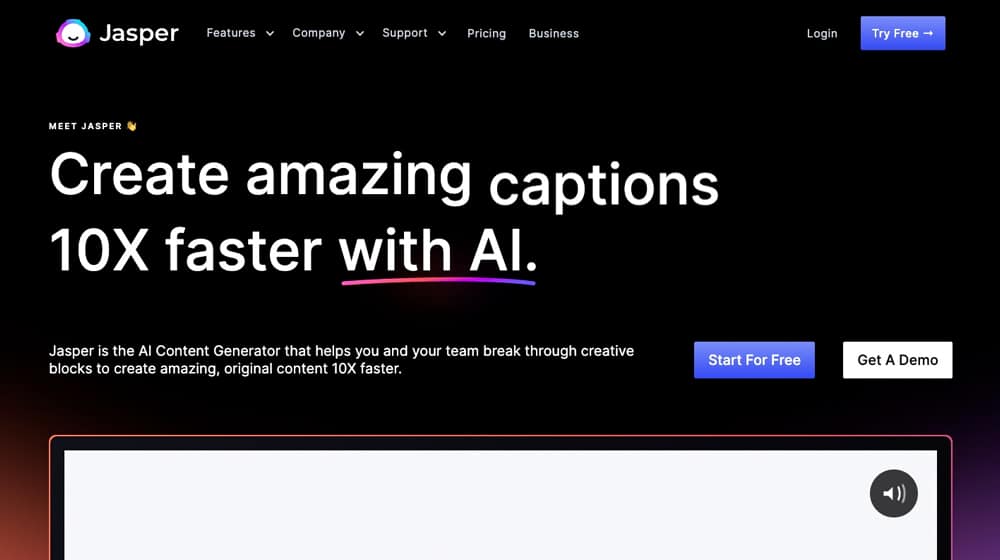 Jasper AI is an innovative software for generating content that can be used for various uses. This helps you write SEO-focused blogs, scripts, ads, books, listicles, and others. 
This software was designed by Dave Rogenmoser, J.P Morgan & Chris Hull in 2021. Since its creation, this tool now serves millions of individuals and businesses in the writing space.
The Jasper AI tool is perfect for a wide range of audiences. This audience includes:
digital marketing companies, email marketers, SEO writers, screenwriters, novelists, bloggers, website owners, students, real estate agents, and high school and college students who can use it to create text material for online or offline distribution.
Jasper AI can curate content faster than the average human. The software offers you 100% original content with zero plagiarism. All the copies written by this software are optimized and ready for attraction.
Jasper AI helps you rank at the top in Google Search Results bringing in thousands of visitors and creating website traffic.
Using Jasper AI requires selecting the right template. The software contains multiple content templates. Your ability to choose the right one for your content type helps in generating excellent copy.
Relevant information is also needed to effectively use the software. You need to be precise about what you want the AI to write. Ensure you narrow down the specifics and data you want to be included in your desired content.
In August 2022, Jasper AI unveiled Jasper Art, an innovative tool that is an AI image generator. You can produce stunning artwork with Jasper Art in a matter of seconds. It turns your texts into visuals.
I have used the tool before and I gave a detailed review of the Jasper AI copywriting tool. With the use of AI, Jasper can now not only write original material but also produce original fresh graphics depending on your suggestions. 
Jasper AI removes the need for stock photos because of how distinctive the images are.
Quillbot Vs Jasper AI: Pros and Cons
Quillbot Pros and Cons
Pros
It has a user-friendly interface.
Its free plan is available for forever use.
Excellent paraphrasing and plagiarism tool.
It offers a 100% money refund within three days.
SEO optimization tools are available.
Cons
Access to its plagiarism checker, co-writer, summarizer, and citation generator is only in its premium plan.
Human assistance is still needed after using its paraphrasing tool.
Jasper AI Pros & Cons
Pros
Jasper AI is very fast in creating high-quality copy.
24/7 customer & live chat support available.
Supports team collaboration
Has necessary content editing tools
Jasper AI allows multiple integrations like Grammarly, Copyscape, and SurferSEO.
Has other features like Jasper art, Jasper Chatbot, and so on.
Cons
Jasper AI can be quite technical to use.
No free plan
Free trial is very short
The pricing plan can be quite expensive
Quillbot Vs. Jasper AI: Which Is The Best Writing Tool?
Quillbot and JasperAI are both exceptional tools that assist in creating high-quality content, although they are not categorically the same.
Quillbot has great strength in its ability to paraphrase content, translate your writing into other languages of your choice, and has all the necessary tools needed to proofread your work excellently.
JasperAI on the other hand, is an excellent content editing and content generating tool, allowing you to generate any content you want and also edit it on the go.
One thing I love about this tool is that it's an all-in-one tool for all your writing needs. But on the downside, it is not affordable for those businesses or individuals on a very slim budget.
I highly recommend both software, because they are very functional. However, your choice of writing tool will depend on the writing features you need in the software and your budget.
Related posts: