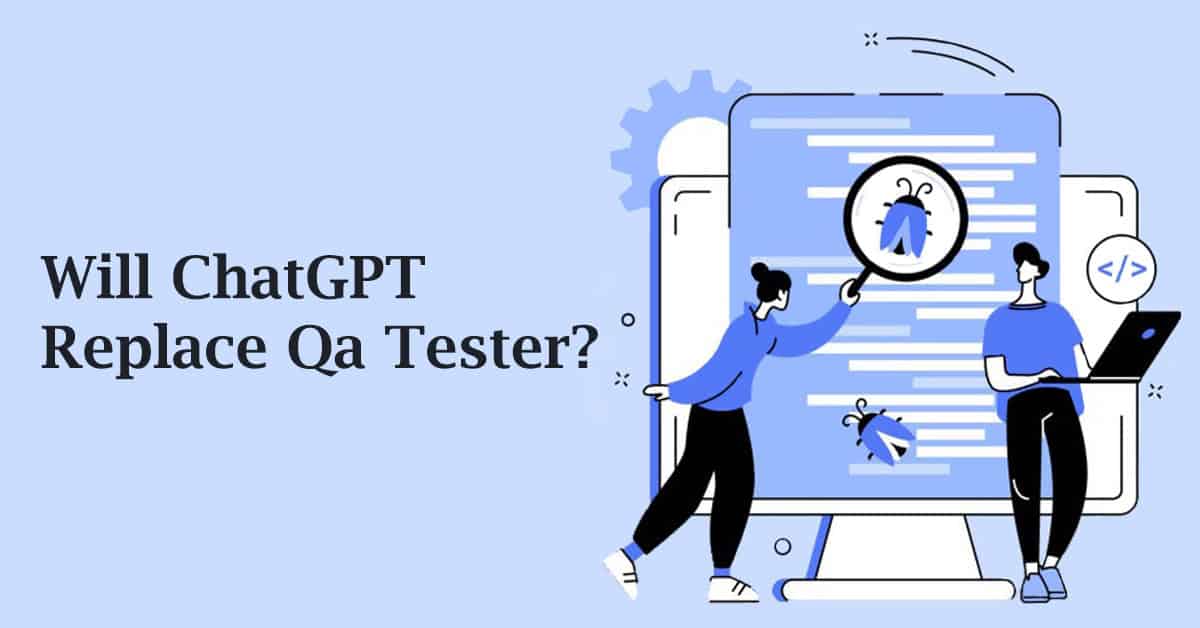 A burning question consumes us in a world teeming with technological wizardry and mind-bending innovations: Will ChatGPT replace the QA tester? Prepare for an electrifying ride as we cast aside the fluff and delve into the heart of the matter.
Join us on this delightful journey as we explore the potential impact of ChatGPT on the future of QA testing. We will explore how AI may revolutionize the Quality Assurance Process and how it may not.
Grab your popcorn and buckle up, for the answers you seek are just a few keystrokes away!
How will ChatGPT impact QA testers in the future?
As ChatGPT continues to evolve and showcase its prowess, it's only natural to wonder about its implications for the QA testing landscape.
Automation and Efficiency Boost
Get ready for a wave of automation and an efficiency boost in QA testing! ChatGPT brings the potential to revolutionize the industry by automating certain aspects of the process.
For example, it can generate test cases based on specific criteria or perform basic checks to ensure software functionality. This automation saves time and increases efficiency, allowing QA testers to focus their energy on more complex and critical tasks.
With ChatGPT handling the repetitive and mundane aspects of testing, testers can dive deeper into analyzing intricate scenarios and identifying edge cases.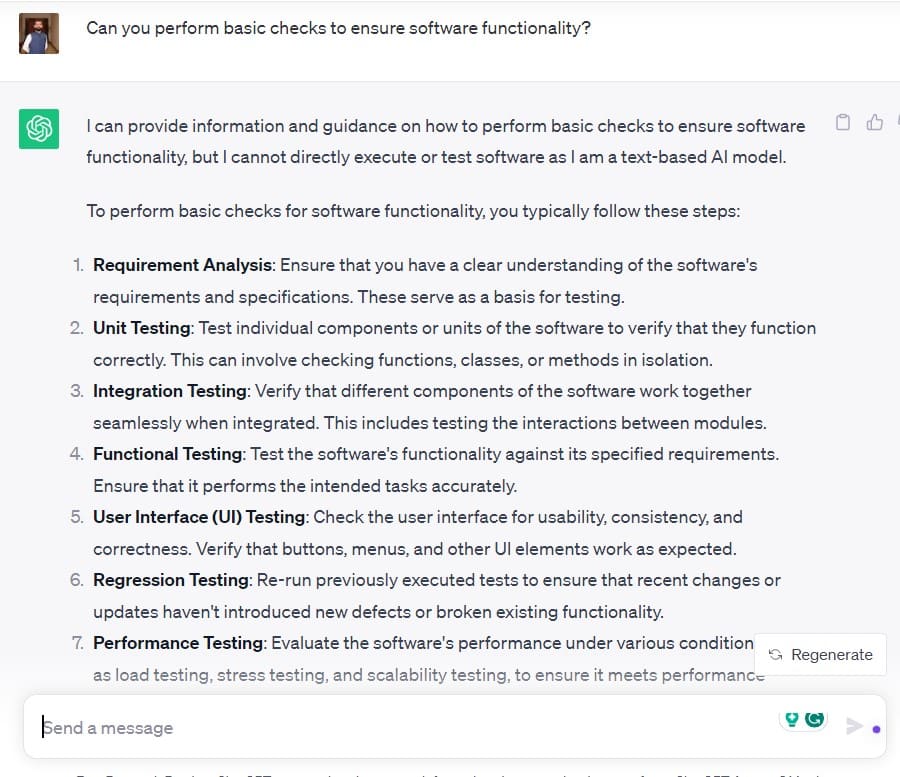 Enhanced Problem Identification and Test Coverage
Harness the power of ChatGPT to enhance problem identification and test coverage! While AI models like ChatGPT excel in generating and understanding human-like text, they still rely on human guidance and domain expertise.
QA testers can leverage ChatGPT's capabilities to analyze vast amounts of data and identify potential issues that might have gone unnoticed.
By providing relevant inputs and guiding the model's responses, testers can train ChatGPT to detect patterns, uncover vulnerabilities, and simulate user interactions. This collaboration amplifies the ability to achieve comprehensive test coverage and deliver robust software solutions.
Streamlined User Experience Testing
User-centric testing is pivotal in software development, ensuring that applications meet customer expectations and provide a seamless experience.
ChatGPT can assist QA testers in simulating user interactions, generating user stories, and validating the usability of software interfaces. Testers can employ ChatGPT to replicate real-life scenarios, evaluate user feedback, and identify potential pain points.
By integrating ChatGPT into their toolkit, QA testers can gain valuable insights into user perspectives, refine the user experience, and deliver exceptional products.
Continuous Learning and Evolution
Embrace a culture of continuous learning and evolution with ChatGPT! AI models like ChatGPT thrive on data and training. QA testers can utilize this attribute to enhance their testing processes continuously.
By feeding ChatGPT with historical data, past bugs, and test results, testers can train the model to recognize recurring patterns and common pitfalls. This enables ChatGPT to provide intelligent suggestions, identify areas of improvement, and even predict potential issues based on historical data analysis.
With each iteration, ChatGPT becomes smarter, assisting testers in proactively tackling challenges and improving overall software quality.
Will ChatGPT Replace QA Testers?
While ChatGPT can handle many aspects of QA testing, it cannot completely replace QA testers. According to Zippia, 38.8% of all quality assurance testers in the US are women, while 61.2% are men.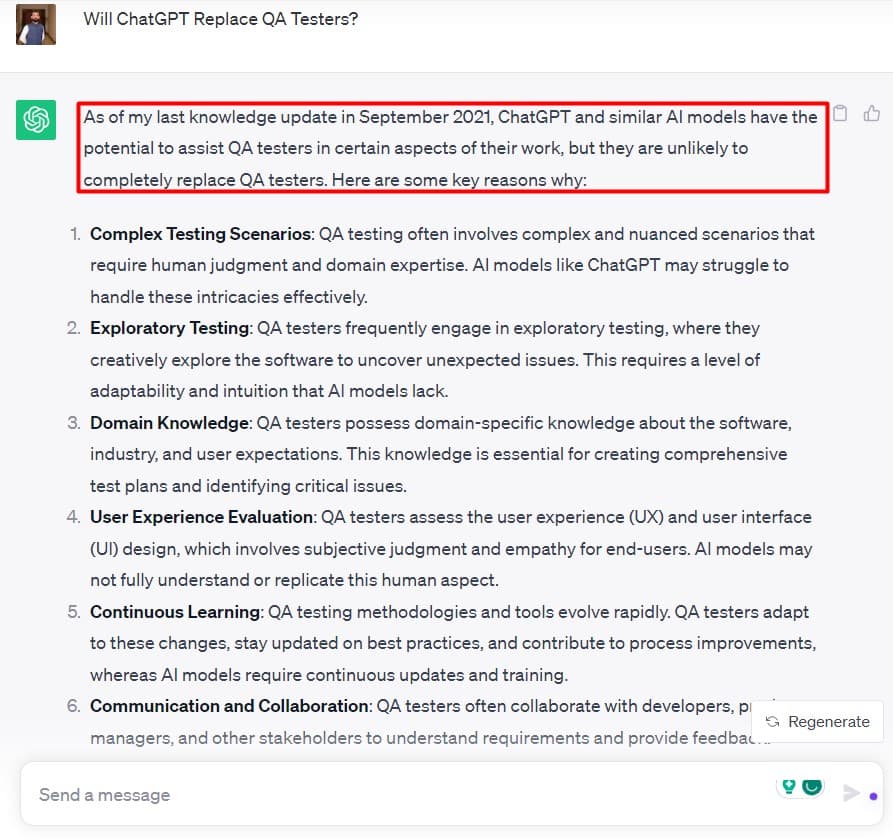 Several challenges lie ahead in replacing QA testers still. Here's why ChatGPT will struggle to replace QA testers now and in the future.
Human Expertise and Intuition
QA testers possess unique skills, expertise, and intuition that ChatGPT cannot easily replicate. While AI models like ChatGPT excel in generating and understanding text, they lack the human ability to think critically, exercise judgment, and draw upon years of experience.
For instance, when encountering complex scenarios or ambiguous requirements, QA testers can apply their contextual knowledge, make informed decisions, and identify potential risks that an AI model might overlook.
Human testers bring a valuable perspective that goes beyond automated text generation, ensuring comprehensive and nuanced testing.
Dynamic Problem-Solving
QA testing often involves navigating through dynamic environments and evolving challenges. Human QA testers possess the adaptability and problem-solving capabilities to tackle unforeseen issues effectively.
Unlike ChatGPT, they can quickly adjust their testing strategies, experiment with different approaches, and devise innovative solutions to address complex problems.
For instance, when encountering a newly discovered bug, QA testers can investigate the root cause, consider various scenarios, and devise specific test cases to replicate and validate the issue.
This agility and creativity are essential in adapting to the ever-changing software development landscape.
Collaboration and Communication Skills
Effective collaboration and communication are crucial in the QA testing process. QA testers interact with developers and stakeholders and provide feedback and insights throughout the software development lifecycle.
Unlike ChatGPT, they possess strong interpersonal skills and can articulate complex issues, explain testing results, and collaborate with cross-functional teams.
For example, during bug triage meetings, QA testers can provide detailed explanations, suggest potential solutions, and facilitate meaningful discussions. These human interactions foster teamwork, understanding, and collaboration beyond an AI model's capabilities.
Contextual Understanding and User Experience
QA testing encompasses more than just functional validation; it includes assessing the overall user experience and ensuring the software meets customer expectations.
QA testers bring a contextual understanding of user needs, preferences, and behavior. They can evaluate software holistically, considering factors like usability, accessibility, and performance.
For instance, they can conduct user-centric testing, gather feedback, and analyze the impact of design choices on user satisfaction. ChatGPT may assist in generating test cases, but it cannot comprehend the intricate nuances of user experience and empathize with end-users.
Will ChatGPT Replace QA Engineers?
Many QA engineers worry about the threat that ChatGPT poses to their jobs. Will ChatGPT replace QA engineers? The answer is no. Let me tell you why it won't replace them now or soon.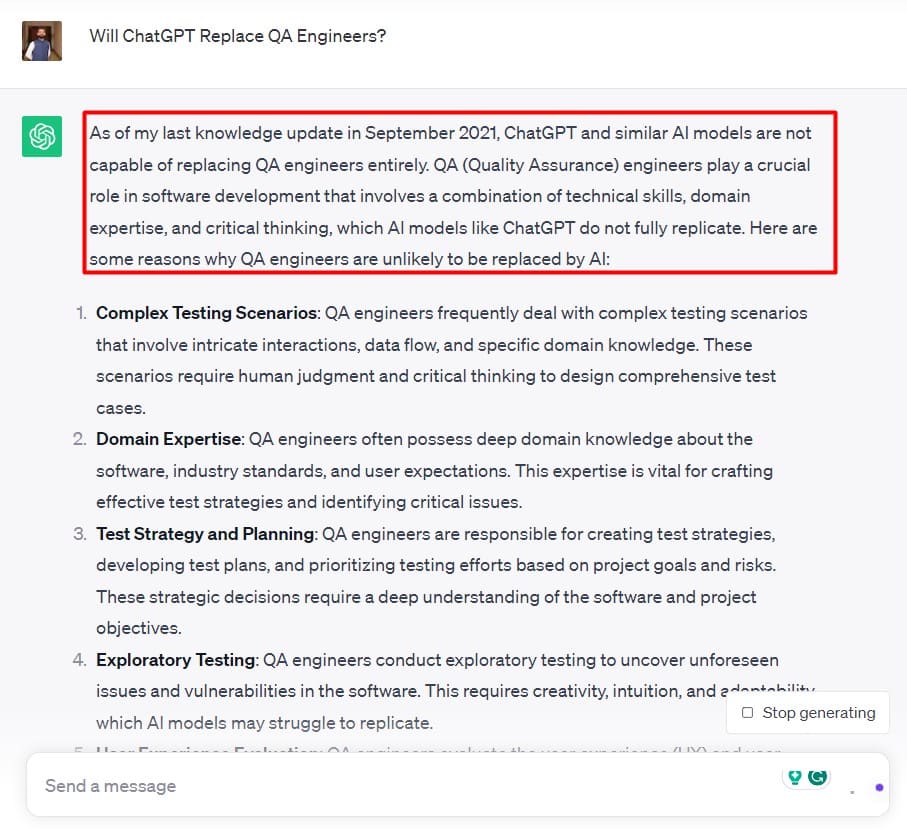 Complex Test Case Design and Analysis
QA engineers are masters of test case design and analysis. They possess the ability to break down complex requirements, identify edge cases, and design comprehensive test scenarios.
While ChatGPT can be a valuable tool for generating test cases, it may fail in comparison with QA Engineers. It lacks the domain expertise and understanding of system architecture that QA engineers bring to the table.
QA engineers can delve deep into the intricacies of software systems, identify potential failure points, and create robust test cases encompassing various integration scenarios. Their ability to analyze complex systems and design targeted tests remains indispensable in ensuring thorough quality assurance.
Technical Skills and Tooling Expertise
QA engineering uses various tools and frameworks to automate testing, perform code reviews, and conduct performance testing.
QA engineers possess the technical skills and tooling expertise necessary to navigate these complex environments. They can develop automated test scripts, utilize testing frameworks, and perform intricate code analysis.
ChatGPT, while capable of assisting with basic automation, lacks the in-depth technical understanding and proficiency required to develop and maintain complex testing frameworks and tools.
QA engineers bring a wealth of technical knowledge that enables them to tackle the diverse challenges of software testing.
Root Cause Analysis and Bug Triage
QA engineers excel in identifying underlying issues and working closely with development teams to resolve root cause analysis and bug triage. They have a deep understanding of software architecture and can investigate complex issues by tracing code paths, analyzing logs, and conducting in-depth debugging.
QA engineers collaborate closely with developers, providing valuable insights and reproducing bugs for faster resolution.
While ChatGPT can assist in identifying potential issues, it cannot perform detailed root cause analysis and effectively collaborate with development teams to ensure timely bug fixes.
Domain and Business Knowledge
QA engineers possess domain-specific knowledge and understand the software's business context. They have a holistic understanding of user requirements, industry standards, and compliance regulations.
ChatGPT, while capable of understanding the text, lacks the depth of domain knowledge and the ability to make informed judgments based on business context.
QA engineers bring a unique perspective considering technical aspects and the broader business landscape. QA Engineer's ability to bridge the gap between technical excellence and business objectives can not be valued.
How Does ChatGPT Assist QA Engineers?
QA testers and anyone can use ChatGPT to conduct effective and accurate QA testing. Here's how.
Test Case Generation
Leverage ChatGPT's text generation capabilities to assist in test case generation. Provide the model with relevant inputs such as requirements or user stories, and let it generate potential test cases.
Review and refine these generated test cases to ensure accuracy and comprehensiveness. This collaboration can speed up the initial test case creation process and help cover a broader range of scenarios.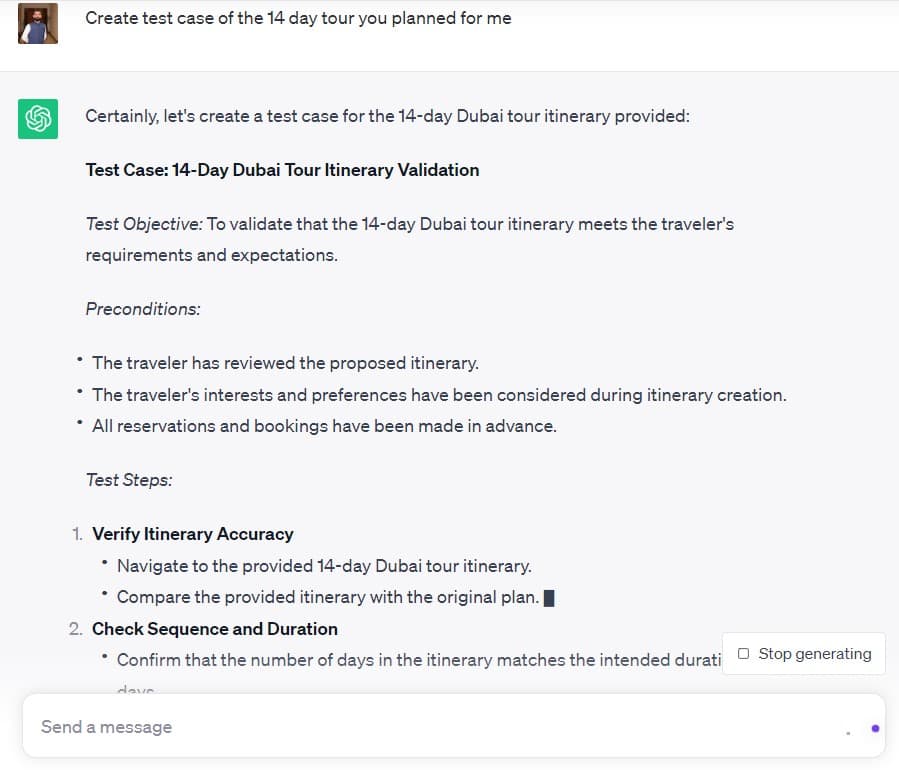 Automated Test Execution
Explore the possibility of integrating ChatGPT with automation frameworks to enhance test execution. ChatGPT can assist in executing repetitive and straightforward test cases, freeing up QA testers' time to focus on more complex and critical scenarios. By automating routine tasks, you can increase testing efficiency and productivity.
Defect Analysis and Triage
Use ChatGPT's capabilities to aid in defect analysis and triage. When encountering a potential bug, provide relevant information to ChatGPT, such as error messages, logs, or specific test conditions.
ChatGPT can help analyze the problem, suggest potential root causes, or provide insights that might aid in faster issue resolution. This collaboration streamlines the defect management process and facilitates quicker bug triage.
Test Data Generation
Leverage ChatGPT to generate test data or sample datasets that can be used for testing purposes. For instance, if testing an e-commerce platform, ChatGPT can assist in creating sample user profiles, transaction data, or various product scenarios. This helps in generating diverse and realistic test data, leading to more effective and comprehensive testing.
User Experience Testing
Use ChatGPT's natural language understanding capabilities to enhance user experience testing. Provide sample user interactions or use cases to ChatGPT, allowing it to simulate user behavior and provide feedback on the user experience.
This collaboration can assist in uncovering usability issues, identifying potential pain points, and refining the overall user experience of the software.
Knowledge Sharing and Documentation
Use ChatGPT as a knowledge base and documentation assistant. QA testers can interact with ChatGPT to quickly access relevant documentation, best practices, or previous test results.
ChatGPT can provide instant answers to common queries, reducing the time spent searching for information and enabling testers to focus more on actual testing activities.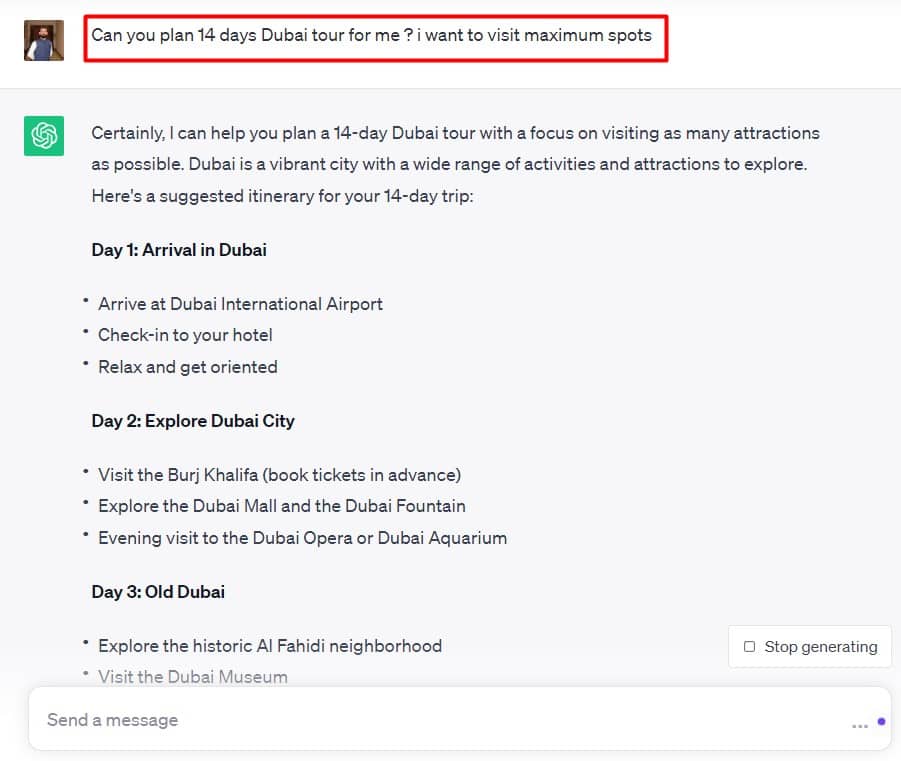 FAQs
Can ChatGPT Replace Software Testing?
No, ChatGPT cannot replace software testing entirely. While it can assist in certain testing areas, human expertise and critical thinking are essential for comprehensive testing.
What Is the Next Level of QA Tester?
The next level of QA tester involves expanding skills in areas like automation, performance testing, security testing, and adopting agile and DevOps practices to meet the evolving demands of software development.
Will AI replace QA Testers?
No, QA testers will not be replaced by AI. AI can augment their capabilities, but the human skills of analysis, problem-solving, and domain expertise remain crucial for effective QA testing.
Does QA Testing Have a Future?
Absolutely! QA testing has a bright future. As technology advances, the role of QA testers will evolve to embrace new tools, methodologies, and technologies to ensure the delivery of high-quality software.
Can ChatGPT Replace Automation Testers?
No, ChatGPT cannot replace automation testers. Automation testers possess the technical expertise and skills to develop and maintain complex automation frameworks, while ChatGPT can assist with certain automation tasks.
Will ChatGPT Replace Testing?
No, ChatGPT will not replace testing. Testing requires a combination of human intelligence, domain knowledge, and critical thinking, which AI models like ChatGPT cannot fully replicate.
Can ChatGPT Replace QA SDET?
ChatGPT cannot replace QA SDET (Software Development Engineer in Test). QA SDETs bring a blend of testing, coding, and automation skills that are essential for building robust testing frameworks and ensuring software quality.
Can ChatGPT Replace SQL Analysts?
No, ChatGPT cannot replace SQL analysts. SQL analysts possess expertise in database management, querying, and data manipulation, which requires a deep understanding of data structures and database systems.