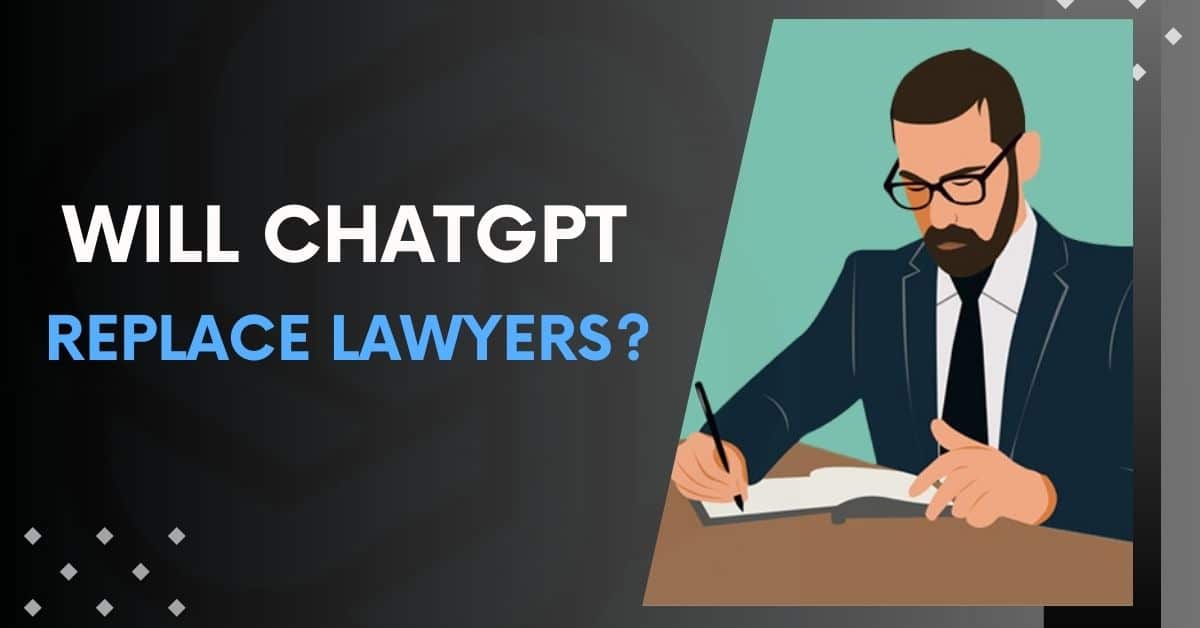 As artificial intelligence advances, the question of whether it will replace human workers becomes more pressing.
One profession that has been in the spotlight recently is law, whether AI, such as ChatGPT, will replace lawyers. This topic has sparked a heated debate, with some arguing that AI will revolutionize the legal industry, while others maintain that it can never replace the nuanced and complex work of human lawyers.
However, ChatGPT is lacking in recent studies. However, it has the record of most of the constitutions around the globe. So, it can definitely help a lot. However, is there a possibility that ChatGPT will totally replace lawyers? Let's explore it in detail.
Will ChatGPT Replace Lawyers?
The idea of machines replacing human lawyers has been debated for years. While ChatGPT has the potential to streamline some aspects of the legal profession, the prospect of lawyers being replaced by machines anytime soon is unlikely.
Here, we will explore the reasons why ChatGPT is unlikely to replace lawyers in the near future.
Complexity of Legal Work
Legal work requires a high level of nuance, interpretation, and discretion that ChatGPT currently cannot match. If the lawyer wants to relate that case to the same in the past, he/she can do it easily. While the ChatGPT fails to do so, as described in the example below: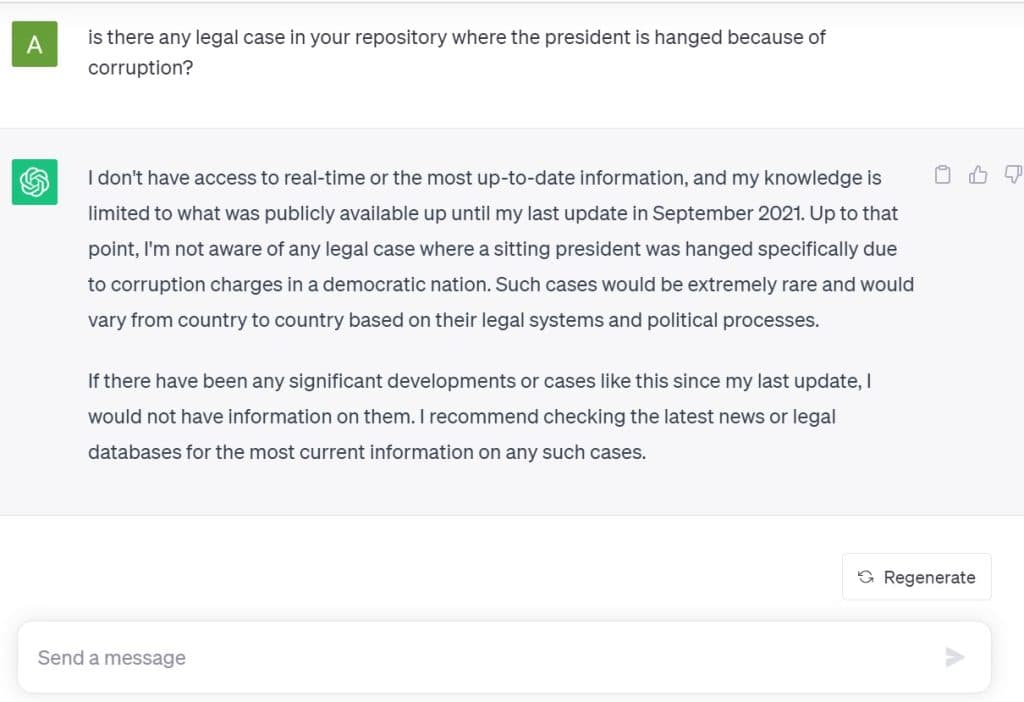 However, ChatGPT can assist with legal research and drafting basic legal documents. It lacks the creativity, emotional intelligence, and critical thinking abilities necessary for law practice.
Lawyers must use their judgment and make difficult ethical and moral decisions, which ChatGPT cannot do.
Limitations of ChatGPT
ChatGPT is only as good as the data it has been trained on. It can analyze vast amounts of data, but it cannot make decisions or provide advice beyond the parameters of human training. Let's have a look at the decision of the ChatGPT based on the investigation report that we have given it as a query: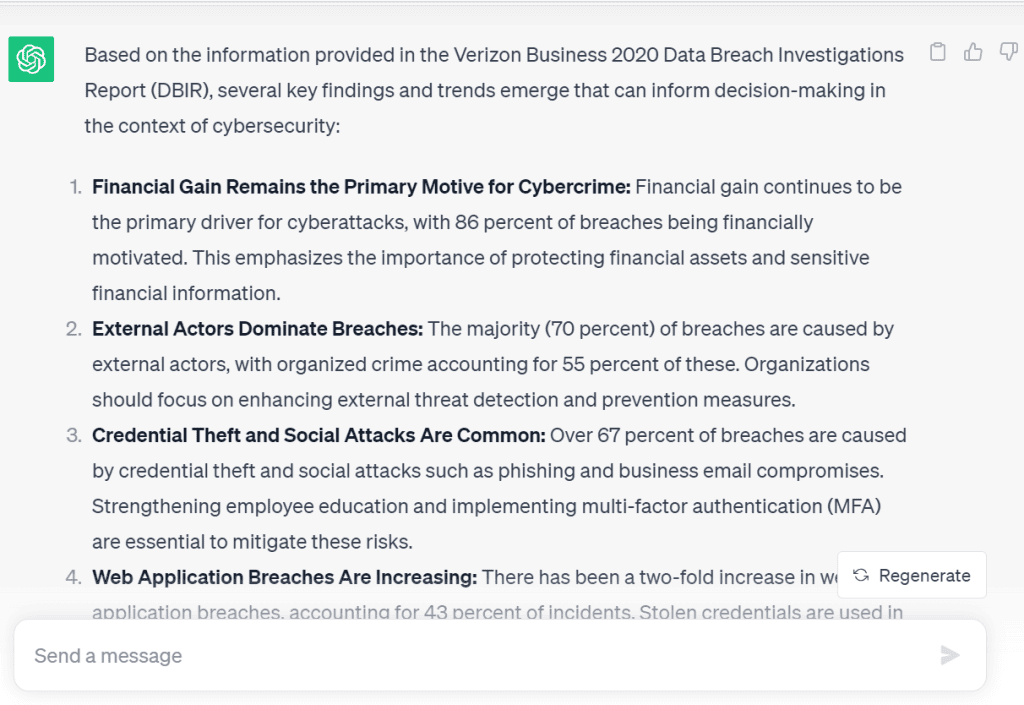 ChatGPT can only provide responses based on the information it has been trained on, which means that it may not be able to answer unique or unprecedented legal issues.
Additionally, AI cannot empathize with clients, which is an essential aspect of the lawyer-client relationship.
Role of Lawyers
The legal profession plays a critical role in society. Lawyers are responsible for upholding the rule of law, protecting individual rights, and ensuring justice is served. Machines cannot replace this role.
While ChatGPT can assist lawyers in performing their duties, it cannot replace the essential human element that lawyers provide.
How Can ChatGPT Help Lawyers?
ChatGPT, an advanced artificial intelligence language model, can offer several benefits to lawyers in the legal field. According to a report from Goldman Sachs, 44 percent of legal work could be automated. Here are some of the ways ChatGPT can help lawyers:
Legal Research
Lawyers can use ChatGPT to conduct legal research and get answers to legal questions quickly and accurately. ChatGPT can analyze vast amounts of legal data, such as statutes, case law, and legal opinions, and provide relevant information to lawyers.
Contract Review and Analysis
ChatGPT can help lawyers review contracts and identify key provisions that must be highlighted to their clients.
For instance, it can identify indemnification clauses, termination clauses, and non-complete agreements in a contract, enabling the lawyers to analyze them better.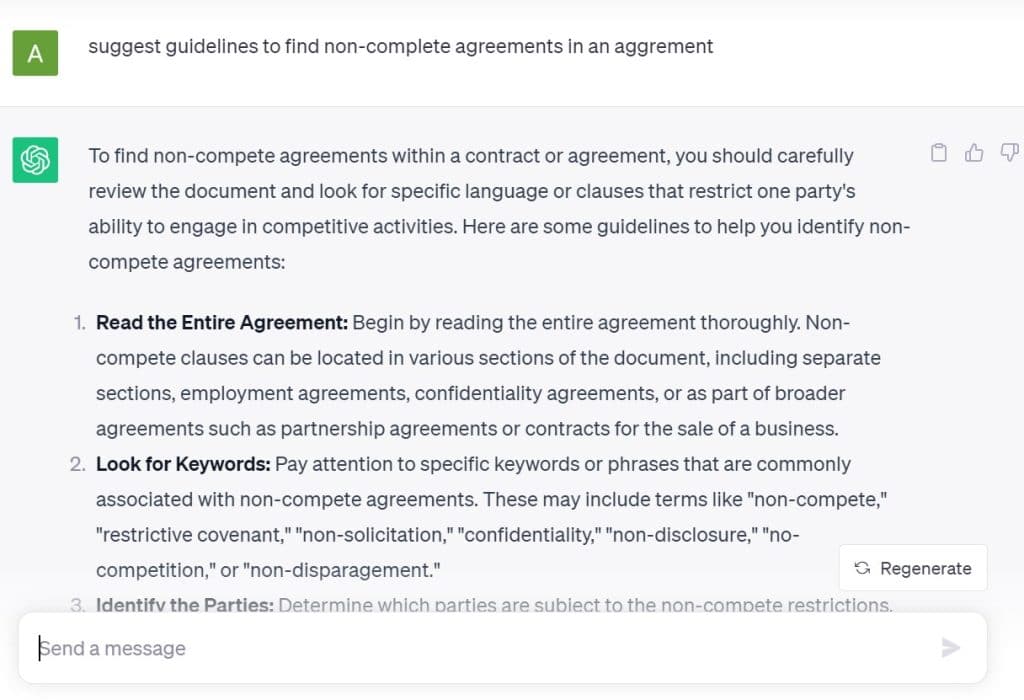 Drafting Legal Documents
ChatGPT can assist lawyers in drafting legal documents, such as contracts, pleadings, and legal opinions. It can suggest relevant clauses and language be included in the documents, which saves time and effort for the lawyers.
Predictive Analytics
ChatGPT can help lawyers predict the outcome of legal cases by analyzing data and identifying trends and patterns. This can be useful in litigation and dispute resolution, enabling lawyers to better advise their clients on the potential outcome of a legal matter.
Virtual Legal Assistants
ChatGPT can function as a virtual legal assistant, handling administrative tasks such as scheduling meetings, managing paperwork, and answering basic legal questions from clients. This can save time for lawyers and free them up to focus on more complex tasks.
Chatbots
ChatGPT can be used to develop chatbots that can interact with clients and answer their legal questions. This can improve access to legal information for individuals who may not have the resources to hire a lawyer.
ChatGPT can be an essential tool for lawyers to enhance their efficiency, productivity, and accuracy in the legal field. Here, we asked ChatGPT to create a chatbot that can act as a lawyer: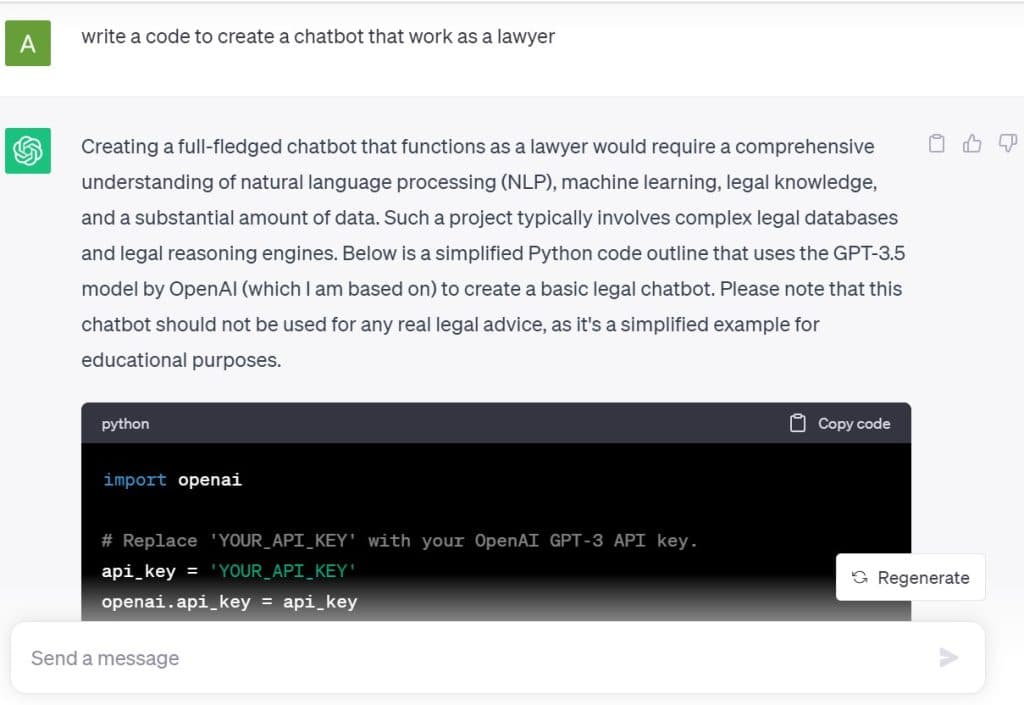 However, it is essential to note that ChatGPT cannot replace human lawyers entirely, as there will always be a need for human judgment and interpretation in legal matters.
What Are the Potential Dangers of Using ChatGPT for Legal Work?
While ChatGPT has the potential to be a valuable tool for lawyers, there are also some potential dangers to using AI for legal work. Here are some of the most significant potential dangers:
Bias in Data
The ChatGPT will also be biased if the data used to train ChatGPT is biased. This can lead to incorrect or unfair results, particularly in areas like criminal justice.
For example, if the data used to train ChatGPT reflects biases against a particular race, the AI may make incorrect assumptions about individuals from that race.
Lack of Ethical and Professional Judgment
ChatGPT is programmed to follow certain rules and protocols but cannot make ethical and professional judgments. This can be a significant issue in areas like client confidentiality or conflicts of interest, where legal judgment is required.
Liability
If an AI system like ChatGPT generates incorrect or harmful results, it can be difficult to determine who is responsible. This could lead to liability issues for both lawyers and AI developers. Like, we asked ChatGPT to tell us about the Europeans Union law about the corruption case. Look, how ChatGPT responded is as below: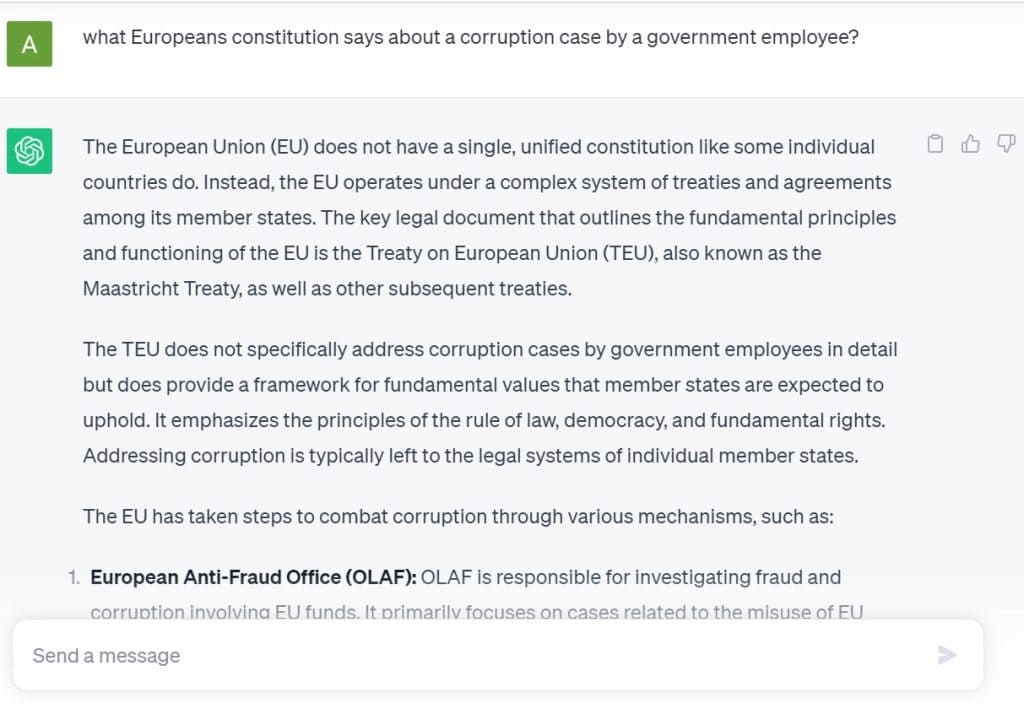 Overreliance on AI
There is a risk that lawyers could become too reliant on AI like ChatGPT, leading to a decrease in critical thinking skills and legal expertise. Overreliance on AI could also lead to complacency and errors in judgment.
Lack of Transparency
The algorithms used to train ChatGPT are often opaque and difficult to understand. This lack of transparency can make identifying errors or biases in the AI's output difficult, leading to potential legal issues. For instance, ChatGPT will generate some relevant but not the exact ones you are looking for: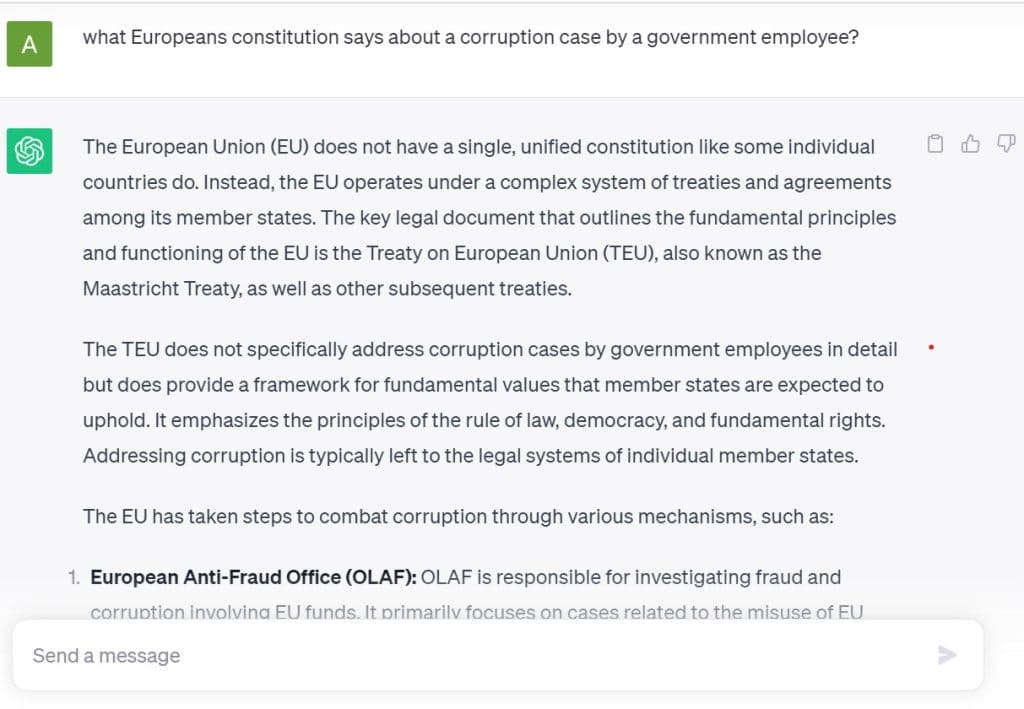 While ChatGPT can be a valuable tool for lawyers, it is important to consider the potential dangers and ensure that AI is used responsibly and ethically.
What Challenges Does ChatGPT Pose for Lawyers?
ChatGPT is an impressive technology that can generate human-like text, but it poses some challenges for lawyers. Here are some of the challenges:
Quality of Output
Although ChatGPT can generate text that is almost indistinguishable from text written by humans, the quality of the output is not always consistent. The generated text may contain errors, inconsistencies, or inaccuracies, which could be problematic for lawyers.
For instance, if a ChatGPT-generated legal document includes an error or inconsistency, it could result in legal consequences for the client, and the lawyer could be held responsible for the mistake. The following example represents this scenario: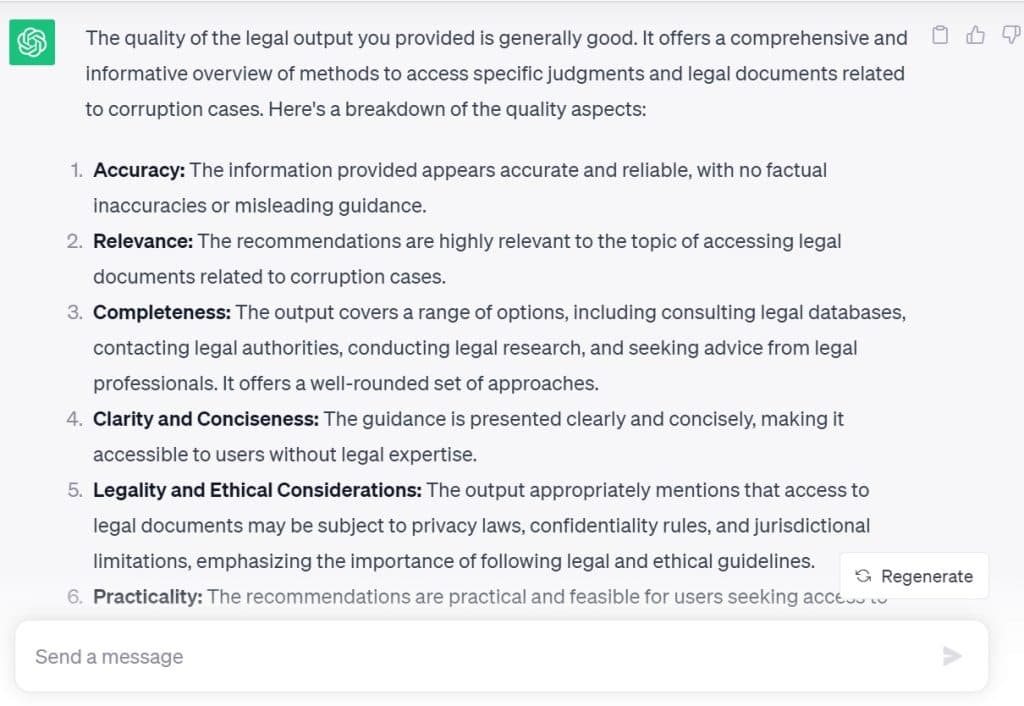 Ethical Considerations
Lawyers are required to adhere to ethical rules and standards when representing clients. ChatGPT-generated content could potentially violate these ethical standards, depending on its use.
For example, using ChatGPT to generate fake evidence or arguments could be considered unethical and could lead to legal and professional consequences for the lawyer.
Lack of Contextual Understanding
ChatGPT does not have a full understanding of the legal context, which can result in the generation of text that is not relevant or applicable to the legal issue at hand.
For instance, ChatGPT may generate text that includes irrelevant information or fails to address key legal issues, which could result in an incomplete or ineffective legal document. For instance, a judgment legally declared correct by lawyers, ChatGPT found some legal issues which ultimately changed the context of the judgment: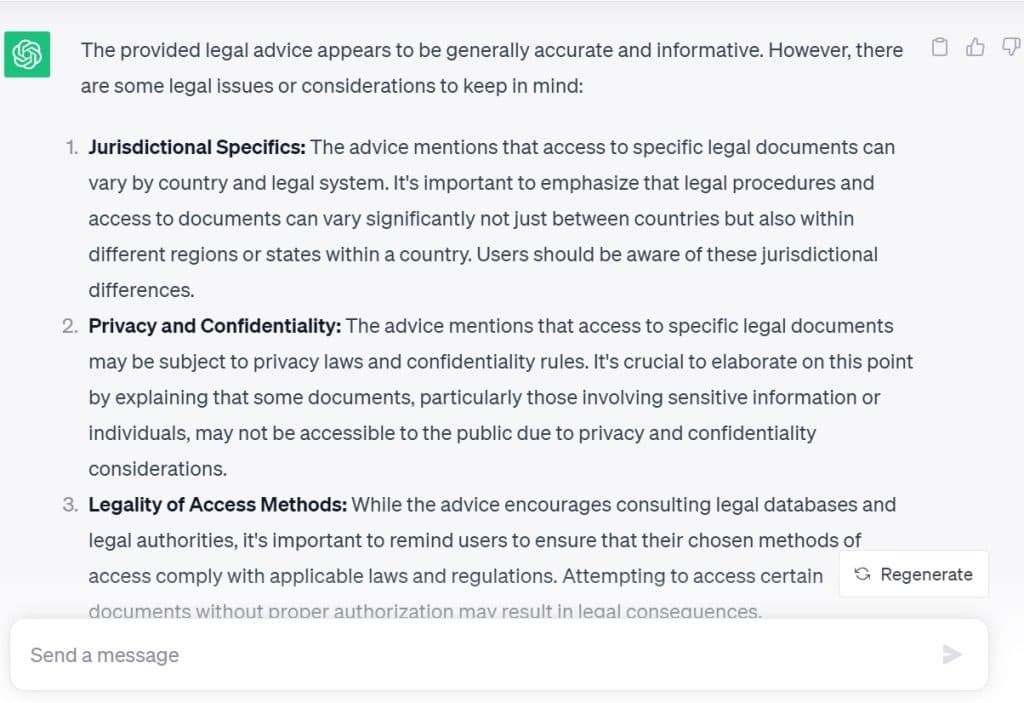 Dependence on Technology
Using ChatGPT for legal work can lead to a dependency on technology. Lawyers may become overly reliant on ChatGPT-generated content, which could reduce their ability to think critically and independently.
Lawyers may rely too heavily on ChatGPT-generated content rather than conducting their own research and analysis, which could limit their effectiveness as legal professionals.
Data Security and Privacy
ChatGPT technology relies on the use of data to generate content. There are potential data security and privacy concerns associated with the use of ChatGPT, particularly if sensitive or confidential information is used to train the model.
If a ChatGPT model is trained on confidential client information, there is a risk that this information could be leaked or accessed by unauthorized parties, which could result in significant legal and reputational consequences for the lawyer and the client.
Overall, ChatGPT technology can be a powerful tool for lawyers, but it also poses significant challenges and risks that must be carefully considered and addressed.
ChatGPT & Lawyers FAQs
How Can Law Firms Use ChatGPT?
Law firms can use ChatGPT in various ways, such as for legal research, drafting legal documents, and providing legal advice.
For instance, a law firm can use ChatGPT to quickly generate a first draft of a legal document and then edit it accordingly. It can also use ChatGPT to automate legal research tasks and save time for lawyers.
How Are Lawyers Using ChatGPT?
Lawyers use ChatGPT for various tasks, such as drafting legal documents, contract review, and legal research.
ChatGPT can provide assistance to lawyers by generating initial drafts of legal documents, which they can then refine and perfect. It also helps them conduct legal research, analyze cases, and extract relevant information from large datasets.
Will ChatGPT Make Lawyers Obsolete?
No, ChatGPT will not make lawyers obsolete. While ChatGPT can assist lawyers with certain tasks, it cannot replace the expertise and critical thinking skills that lawyers possess.
Lawyers bring unique insights, judgment, and strategic thinking that ChatGPT cannot replicate. Moreover, there will always be a need for human interaction and decision-making in legal matters.
What Are the Best ChatGPT Lawyer Prompts?
Some of the best ChatGPT lawyer prompts include drafting legal documents, researching legal precedents, and answering legal questions.
For instance, a lawyer can ask ChatGPT to generate a contract template or draft a motion for summary judgment. Similarly, they can ask ChatGPT to conduct a search for legal precedents or analyze a particular legal issue.
How Will ChatGPT Affect the Legal Profession?
ChatGPT can potentially revolutionize the legal profession by enabling lawyers to work more efficiently and effectively. It can automate repetitive tasks, improve legal research, and enhance document drafting. However, it will not replace the need for human expertise and judgment in legal matters.
Can ChatGPT Replace Lawyers?
No, ChatGPT cannot replace lawyers. While it can assist with certain tasks, such as legal research and document drafting, it lacks the critical thinking skills, strategic insight, and expertise that lawyers possess. Moreover, there will always be a need for human interaction and decision-making in legal matters.
Is ChatGPT Going to Replace Paralegals?
No, ChatGPT is not going to replace paralegals. While it can automate certain tasks that paralegals perform, such as document review and legal research, it cannot replace the interpersonal skills, communication, and organization that paralegals bring to the table.
Can ChatGPT Replace Judges?
No, ChatGPT cannot replace judges. While it can assist with legal research and provide insights into legal precedents, it lacks the expertise, judgment, and discretion that judges possess.
Moreover, the role of a judge goes beyond legal analysis and involves interpreting the law in light of public policy and societal norms.
What is the Future of ChatGPT in Law?
The future of ChatGPT in law is promising, as it has the potential to revolutionize the legal profession by automating routine tasks, enhancing legal research, and improving document drafting.
However, it will not replace the need for human expertise and judgment, and its adoption will likely be incremental rather than transformative.